Background:

The ford factory AM/FM radio was acceptable for the first couple weeks of owning my police interceptor, but later i wanted features such as a tape or cd player, backlighting on the display at night, and preamp outputs.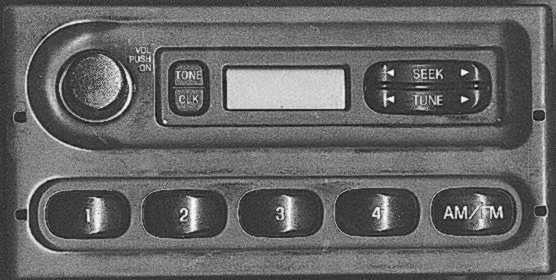 The stock radio in my 98 interceptor, note the lack of tape deck or cd player.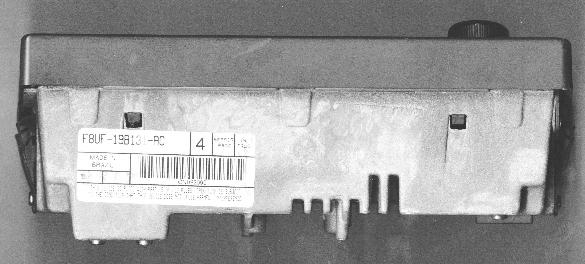 View of the top of the radio, note how shallow the depth of the radio is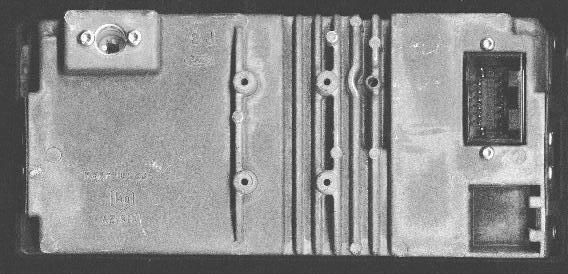 Back of radio, nothing fancy here. The radio uses the standard antenna connector even though the car has no external antenna but instead the radio antenna integrated into the rear windsheild defogger grid.
I installed an aftermarket clarion single DIN headunit with CD Player into my 98' interceptor. The new headunit gets excellent radio reception utilizing the integrated rear window antenna, perhaps even a little better than the stock radio did.
1995 and later vics technically have a 1.5 DIN radio, but it is commonly called double DIN. Many japanese cars have true 2.0 DIN radios, these are taller and will not fit into a vic without modification.
The Scosche FD1280 Truck/SUV mounting kit allows use of a single DIN radio and provides an extra storage pocket. Schosche kit did specifically list the 98' crownvic on the application list, but I still had to use a grinding wheel to make it fit in the dash opening. Maybe a place like Crutchfield stocks an easier kit to install.
The front door speakers were 5x7's, Infinity Kappa 572.3cf 5x7 Speakers were a straight bolt-in and sound excellent.

Car speaker application guides giveconflicting information about the size of the rear speakers in 1998 crown victorias. Some list 98' vics as having 5x7's while others list the 98' crownvics as having 6x9's. It appears as though all 1998 & earlier crown vics will have 6x9 cutouts in the rear, and the later 1999+ ones will have 5x7 cutouts in the rear. But if you are purchasing your speakers from a merchant that has a strict return policy, it would probably be worthwhile to physically measure the openings in your parcel shelf ahead of time to be sure of the size.

Mounting depth is not much of a concern with the small temporary spare that many of the 97' & earlier vics come with. But if you've got a 98' or later vic, you need a fullsize 16" spare to physically fit over the front brake components and some of the deeper speakers will hit the spare tire. Also, observe closely the rear trunk lid latch springs that run from one side of the trunk to the other. Infinity Kappa 693.3's would not work in the rear deck of my 98' vic because they use a basket shape rear frame that hits the latch torsion bars.
Ford uses a couple of different radio harnesses depending on audio options, some of the higher end audio systems come with external amplifiers and a factory sub. Radio harness connectors changed in the vics starting with the 98' model year, so make sure to closely examine the application guide on any harness adapters you may purchase. For my 98', the Scosche FD16 harness connector worked out well.
98'-02' radio connectors: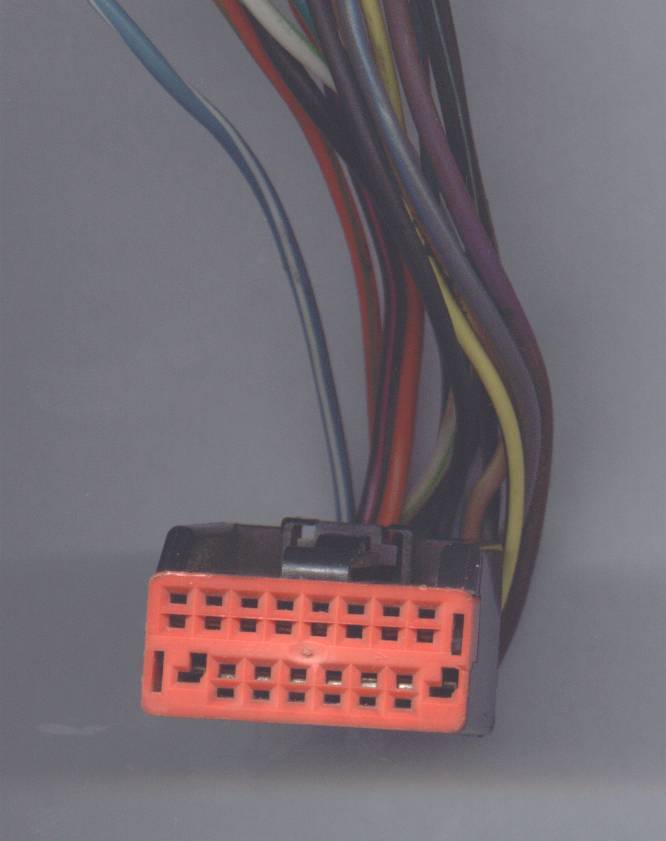 Radio plug used on 98'-02' crown vics.
On police interceptors, this will be the only radio plug in the dash harness. On civilian vics, there may be additional radio connectors for features such as cd changer, factory amplifier, steering wheel radio controls, etc.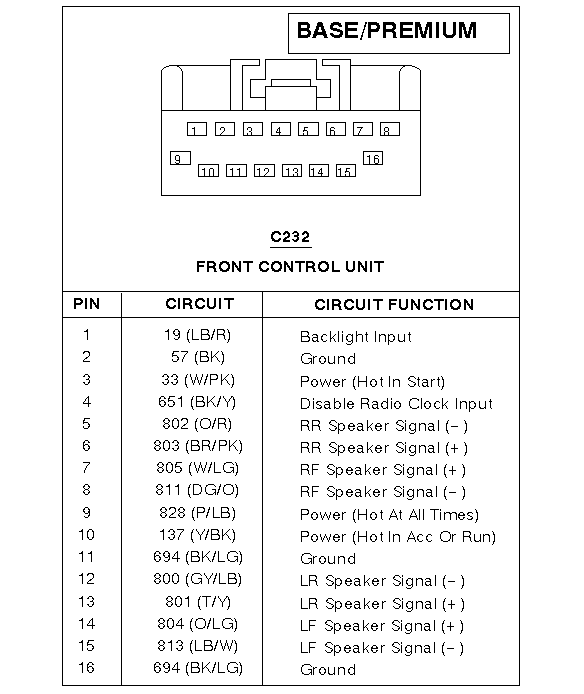 Pinout of the plug pictured above.
Got too many clocks? Jump PIN 4 "Disable Radio Clock Input" over to PIN 11 "Ground" to disable the clock on your radio.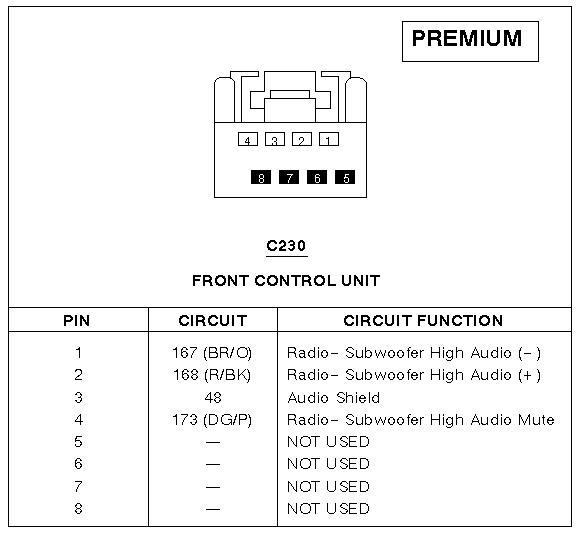 If you have the deluxe radio with the factory subwoofer and amplifier in the trunk, you'll also have this connector plugged into the radio.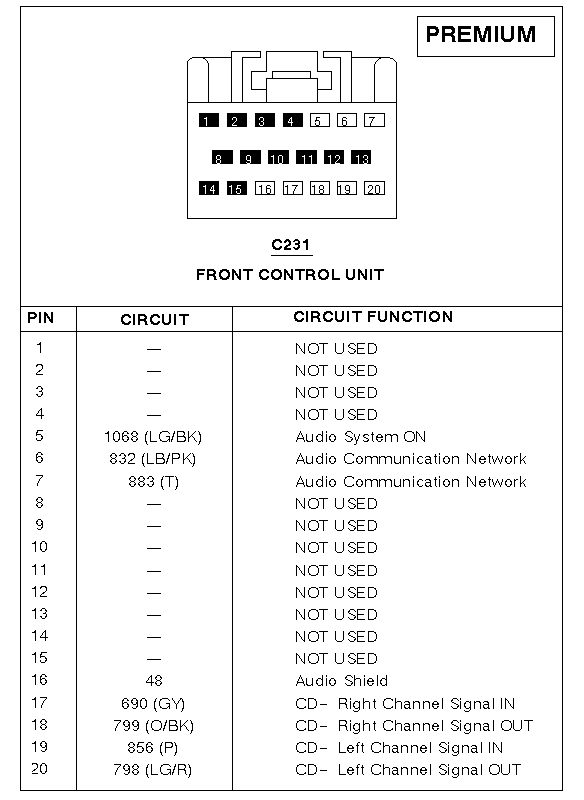 If your car came from the factory equipped with a radio with CD changer controls, you'll also have this connector plugged into the radio.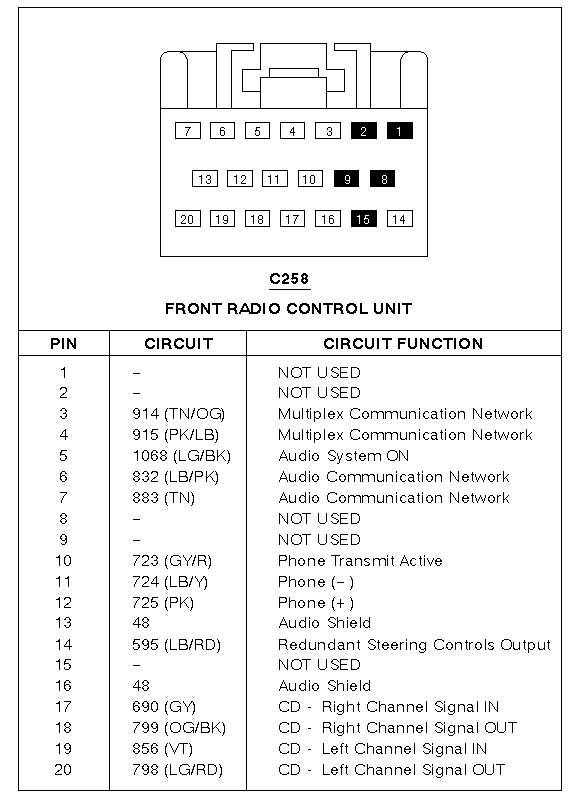 C258 is from a 98' towncar, take note of the extra wires for the cellular phone and steering wheel radio controls. Also note that the towncar radio is tied into the SCP multiplex network for features such as speed sensitive volume control and delayed accessory off.

Additionally, some 1998 and later lincoln towncars obtain data on how brightly to illuminate the radio nighttime backlighting from the LCM via SCP data bus. So if an upper level town car radio is installed into a crown vic, you might not be able to read the front panel buttons during the dark nighttime hours without the use of a flashlight.

1997 & earlier crown vic and grand marquis radio connectors: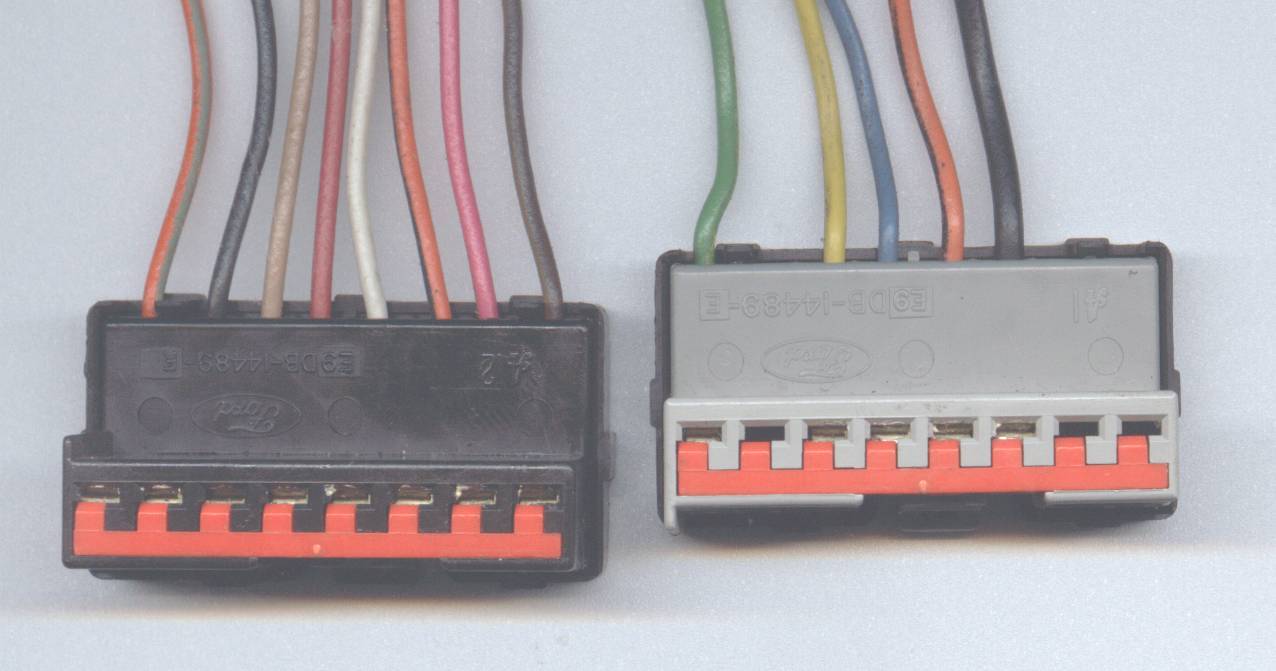 1997 and earlier vics use the above radio connectors. The same connectors have been in use since the mid-1980's.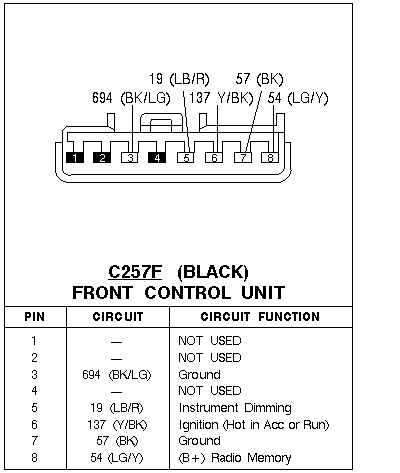 Pinout of the black connector pictured above.
Ford shares radios among a number of different vehicles, even though 1995 and later vics do not have power antennas, PIN 2 is still hot when the radio is turned on. This can be useful if one desires to keep the stock head unit, but connect aftermarket amplifiers and need an amp turn on lead.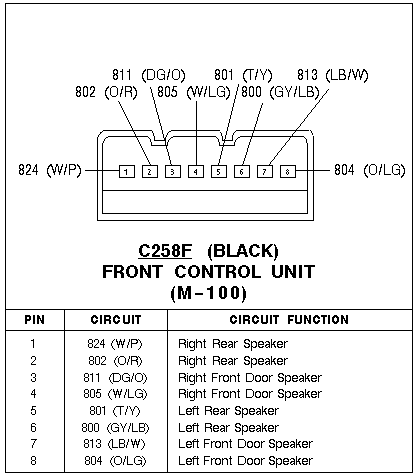 Pinout of the grey connector pictured above
2003-2010 crown vic radio connectors:

Starting in the 2003 model year, upper level ford crown victoria lx's and mercury grand marquis ls's recieved a new 24 pin sanyo radio connector to replace the old 16 pin one.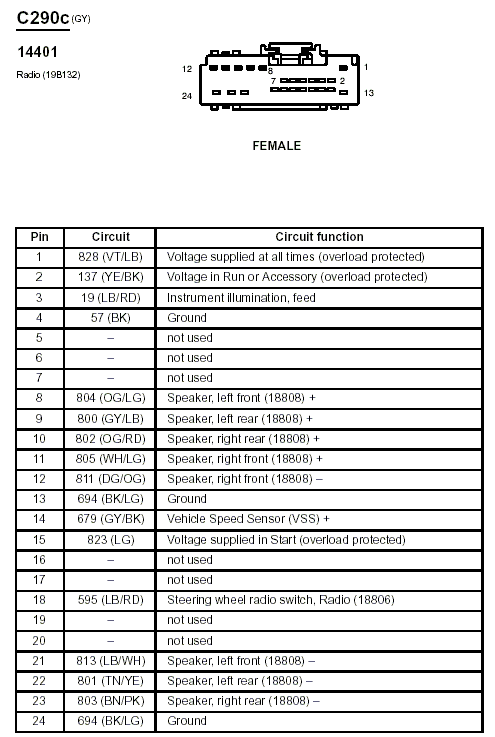 However, 2003+ police cruisers and base civilian crown vics still use the same connector that has been in use since 1998.

Note: This radio connector diagram is from a 2004 crown victoria, and the wiring color coding scheme will vary on some of the later vehicles.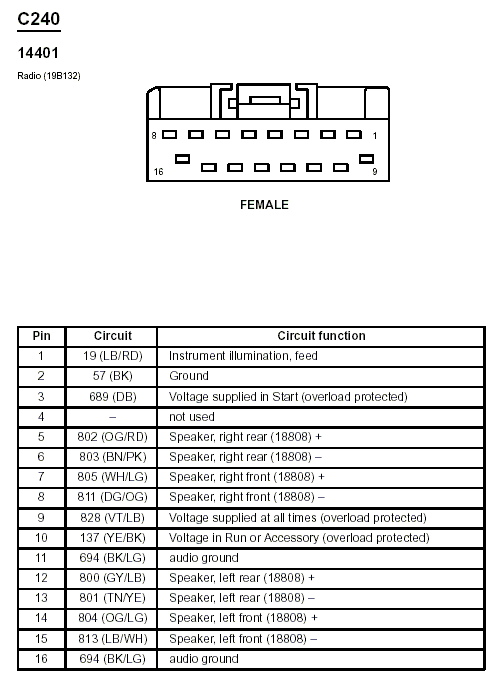 The upper level 03+ crown vics also have newly revised cd changer connectors as well: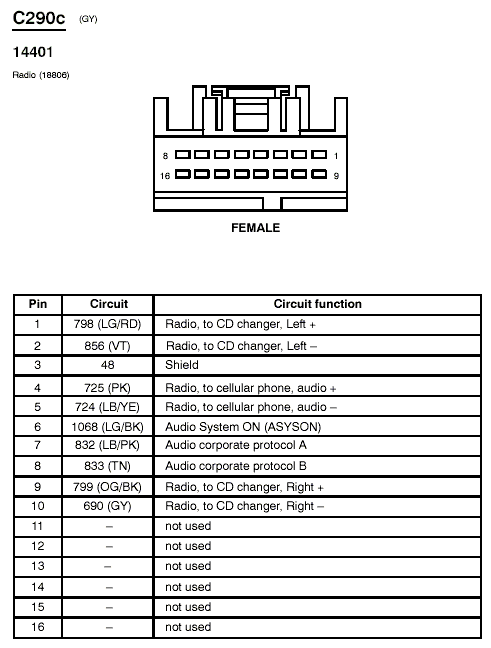 And on some radio's you might find subwoofer connector in use too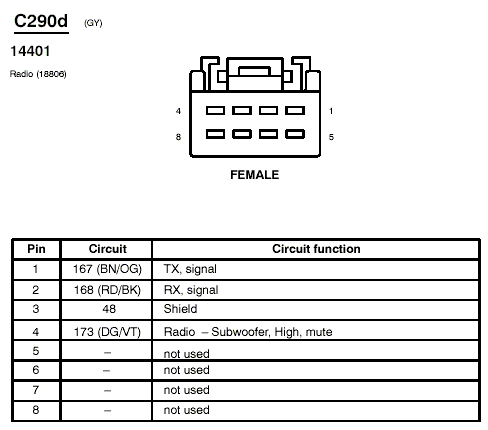 Radio Removal:
The easiest way to remove the radio is to use "DIN Tools" avaliable for around $5 at the autoparts store. Radio removal is straightforward, insert the din tools into the holes on the front of the radio, click them into place and slide the radio out of the dashboard.
If you are unable to locate DIN tools, you can remove the radio by unbolting the black plastic trim peice that covers the speedometer and radio from the dashboard. Note this method is very time consuming compared to using the proper tools.

Some crown vic owners have also reported successfully removing their factory radio by using a couple bent coathangers. But this method is not recommended if you think that you may ever want to reinstall your old radio at a later date. Because coat hangers are not typically the proper diameter and are likely to damage the plastic holes on the face of the radio as a result. And coathangers may also damage the spring clips that hold the radio in place.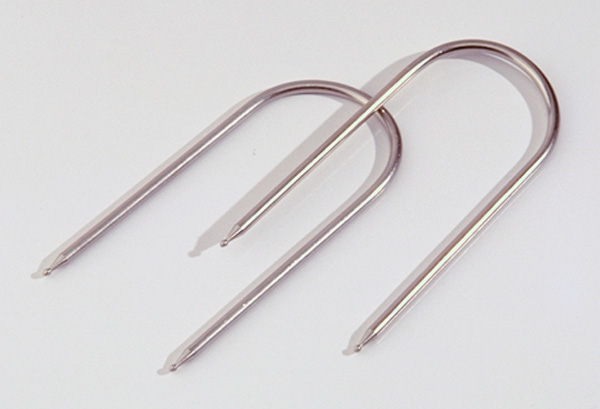 Set of DIN tools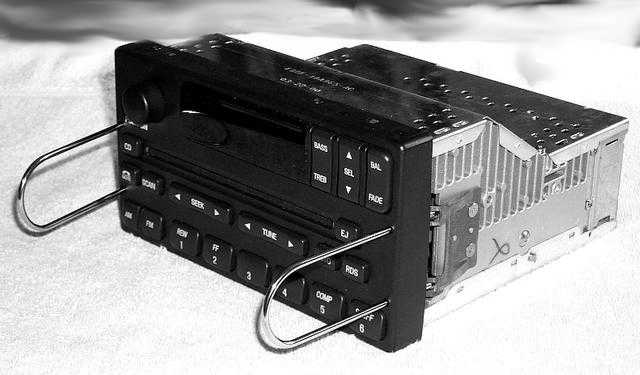 DIN Tools inserted into a radio.

Other thoughts and issues

There is plenty of space in crownvic trunks for subwoofers and amplifiers. But make sure when mounting amplifiers and grounding screws not to drill into your vehicle's gas tank, its below the big hump in the trunk in between the trunk pit and passenger compartment.

An interactive guide to mounting equipment in the trunk of your crown vic is avaliable here:

https://www.fleet.ford.com/showroom/CVPI/TrunkLoading.asp

Running 4 guage wire for amp power from the engine compartment to the trunk is quite easy in crown vics. There are large unused electrical conduits on both the passengers and drivers side above the rocker panels for police equipment and 4 guage power wire will slip through them with little effort. If your interceptor was ever in service, there's a good chance you have some holes predrilled through the firewall as well. Make sure when running low level RCA cables not to run them too close to the power wire for the amp, because high current draws in power leads generate magnetic fields that can induce noise into the RCA cables.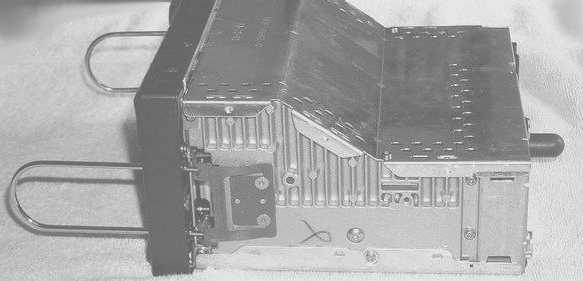 Sideview of factory ford radio. Notice how the radio tapers in size from the front to back. The front of radio is a 1.5 DIN size, back of radio is a single DIN size. The shape of the radio is unique, but is required to clear the defroster duct work at the back of the dash. 2003 vics have a redesigned dashboard and the radio can be 1.5DIN at both the front and rear.

If for some reason, you absolutetly need to be able to fit a full 1.5 din radio in your 1995-2002 crownvic, the part # for the 2003 defroster duct work is:

| | | |
| --- | --- | --- |
| 3W7Z-18D453-AA | Nozzle and Duct Asy., Heater & A/C Demister | $99.23 |
The part # for the 1999-2002 defroster duct work that restricts you to a 1.0 DIN radio at the rear of the radio is:

| | | |
| --- | --- | --- |
| XW7Z-18D453-AA | Nozzle and Duct Asy., Heater & A/C Demister | $95.88 |
Be warned, that swapping the defroster duct work is a time intensive task and requires removing the dashboard from the vehicle. More documentation on dashboard removal is avaliable by clicking here or by clicking here


Some people have also tried hacking the existing windshield defroster duct work in their 1995-2002 crownvics with a dremel or hot air gun. While you might succeed in getting the defroster duct work reshaped some with this method, you also can:

Damage wiring harnesses
Make your car smell like burned molten plastic
Light your car on fire

Create holes large enough that you don't get hot air blowing onto the windshield anymore

Create blockages in the defroster duct work that inhibit air from blowing at the windshield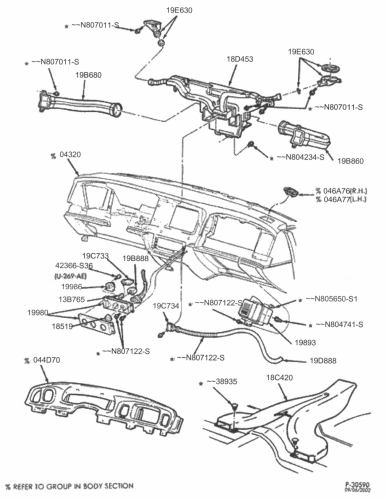 Some vic owners prefer to keep the factory look to their stereo install. A few have swapped in radios from other ford vehicles such as ford explorers, econoline vans, and lincoln town cars. This option greatly lowers install time and planning, just slide the old radio out, unplug it and slide the new radio in and connect the electrical plugs. Sources for used radios include local salvage yards and auction sites like http://www.ebay.com. Another alternative is to get the radio directly from Visteon (http://www.visteon.com), the company that makes many of the radios for ford.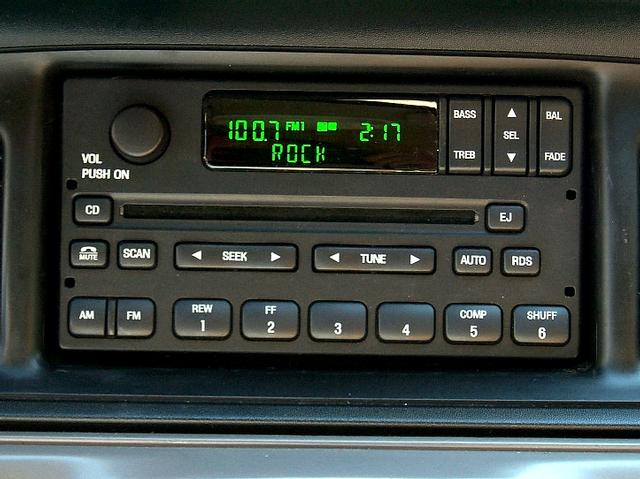 CD Player equipped ford radio installed in a vic. Many ford radios like the above one are equipped with RDS (Radio Data Stream) that allows among other things the radio to display "rock", "classical", "country", etc depending on which type of radio station is being listened to. Note that not all radio stations broadcast are RDS equipped, in some areas none are.
Also note that the radio above has a built in self test that will turn on each speaker individually and also perform some other diagnostics. More documentation on this topic is avaliable by clickling here.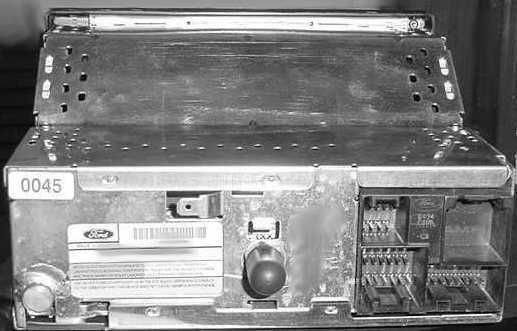 Back of a 98' radio. If you're swapping this radio into a car without CD changer or subwoofer, only one out of the three connectors on the back of the radio will be used.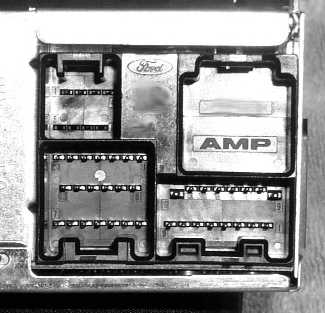 Closeup of radio connections.

Back of a 96' radio. Note the connectors are very different compared to the 98+ ones.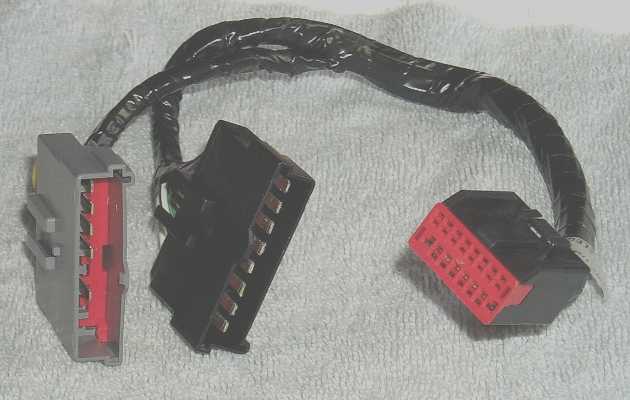 Adapter to use a 98+ vic radio in a 1997 and prior crown vic, premade ones avaliable from vendors such as www.radiosandmore.com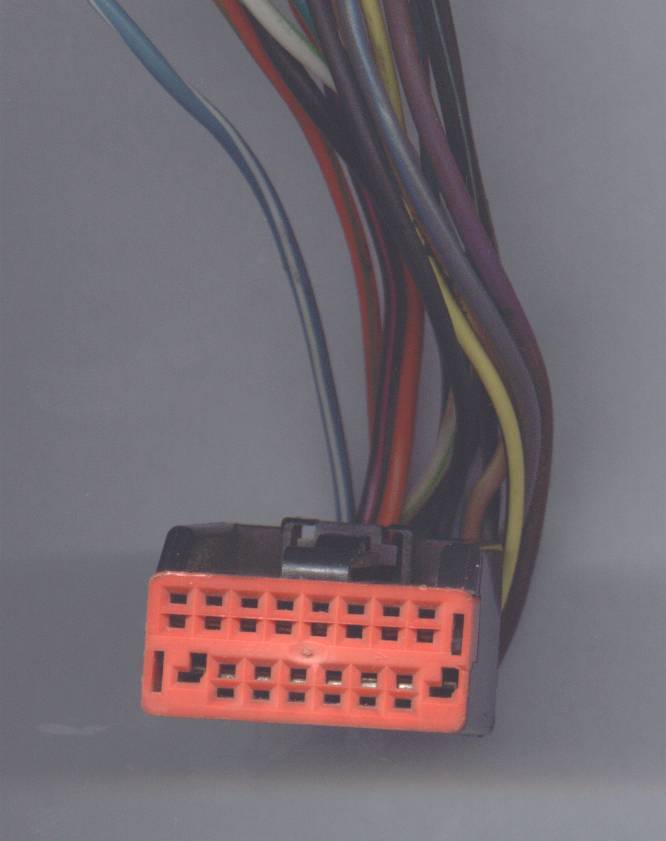 If you are comfortable soldering, you can make your own adapter by cutting the male radio plug off a salvage yard vic and purchasing some radio interconnect plugs at a store such as walmart or radioshack.

Speaker Installation:

To install the front speakers, the door panels first need to be removed. 1995 and later crownvics use a combination of screws and C-shaped molded plastic clips to retain the interior door panel to the door. There's a screw towards the bottom back of the door panel towards the b-pillar. Another is inaccessible until after the door window and lock switch control panel is removed. Later vics will also have a screw near the latch inline with the armrest and one that is only accessible after the cup that covers the door handle is removed. After all fasteners are removed, lift the door panel upwards while pulling away from the door.

DO NOT USE a prybar or friction clip removal tool to try to remove the door panel as you will damage it. The door panel in 1995 and later crown vics is not held to the door using "friction clips" like found in older cars. More details on this topic are avaliable by clickling here.

The rear speakers come out from inside the car, they are not removed through the trunk. To remove the speakers, the parcel shelf cover first has to be removed. To remove the parcel shelf cover, the back seat and third brake light cover have to be removed.
Two c-shaped clips are welded to the metal floorpan in the rear of the car. To remove the seat bottom from the c-shaped clips, push one corner of the seat backwards while lifting upwards and you should feel the rod disengage when it comes to the opening in the clip, repeat on the other corner of the seat. Will now need to use a 1/2" drive ratchet to remove the nut at each corner of the seatback that holds the seatbelt and seatback in place. After the two nuts are released, the seatback will lift upwards and can be removed from the vehicle.

The parcel shelf cover is held in place by a couple trim panels, some friction clips, a third brake light cover and on some later models the child seat tether system.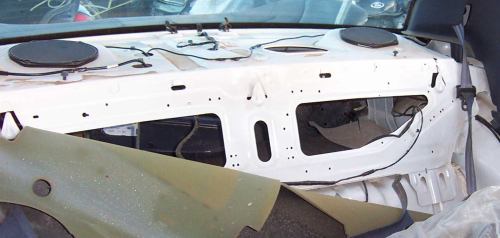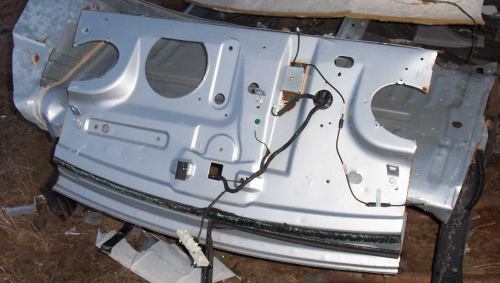 Above a a few pictures of wrecked crown victoria police cruiser rear parcel shelves. The blue cruiser is a 00', the white a 99' and the silver an 01'. The metallic silverish box on the top of the parcel shelf is the antenna isolator that allows the radio to use the defroster grid as an antenna. The wiring and raised area of the sheetmetal in the center rear of the parcel shelf are for the third brake light. The three hooks visible on the parcel shelf of the 00' & 01' cruisers are the child seat tether (LATCH) anchors. They are standard equipment on all 2000 and later crown vics, but unavaliable on 1999 and prior models.

The circular hole with the flat line across the bottom towards the drivers side speaker hole is for the factory installed subwoofer. But 1998+ crown vics never actually recieved a factory installed subwoofer. However, all 2003 and 2004 mercury marauders did as did a very limited number of well optioned 1992-1997 aerobody crown vic LX's. And the assembly is a "plug and play" upgrade for some 1998+ crown vic lx owners. If you're observant when looking at the radio and power distribition section of the ford electrical and vacuum troubleshooting manual (EVTM), you'll notice various references to the subwoofer. And some upper level LX trim level owners with premium sound will find a mysterious four pin connector dangling unconnected behind their rear seat. In such instances, just plug the subwoofer in, bolt it to the parcel shelf, and install a lincoln town car cartier or signature radio. Then you'll have an audio system that sounds much better than the factory crown vic one and takes up a minimal amount of additional trunk space. Click here to view some pictures of the subwoofer assembly in question.

Additonally note that you need a ford crown victoria, mercury grand marquis or mercury marauder subwoofer housing to fit in the factory hole cut in the rear parcel shelf. Lincoln towncars have a different rear parcel shelf than their crown vic and grand marquis counterparts. And the subwoofer housing is also a very different design than the crown vic one. However, the subwoofer amplifier in the towncar is nearly identical to it's crown vic counterpart. And the amp is also strikingly similar to the one used in the lincoln ls.

And keep in mind that not all 1998-2004 lincoln towncars recieved subwoofers. The 98+ town car executives (M81) do not have factory installed subwoofers, but most all of the 98+ signature (M82) and cartier (M83) trim level towncars do. Click here to view some pictures of a factory towncar subwoofer assembly.


Radios that will NOT work in your vic:

Pictured below is a dual media radio from a ford truck, it has both a cd player and a cassette deck. Problem is that the radio is 1.5DIN at the front and 1.5DIN at the back of the radio. Some ford trucks like the crown vic use a radio that is 1.5DIN at the front and 1.0DIN at the rear. A radio opening in a ford truck that is 1.5DIN at the front and 1.5DIN at the rear will accomadate a radio that is 1.5DIN at the front and 1.0DIN at the rear. But a crown victoria dash opening that is 1.5DIN at the front and 1.0DIN at the rear will not accomadate a radio that is 1.5DIN at both the front and back.

In summary: a 1995-2002 crown vic radio will always physically fit in the dash opening of another 1995-2002 crown vic or grand marquis, a crown vic radio will also fit in most ford trucks. But a ford truck radio may or may not fit in a crown vic. You are physically going to have to look at the radio prior to purchase to determine whether it will fit in your vehicle or not.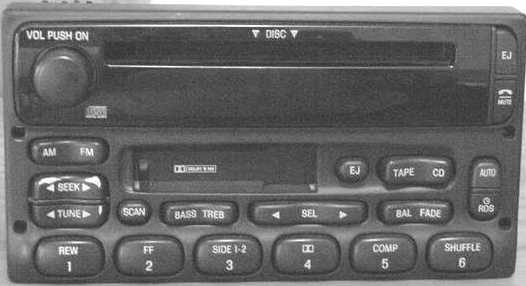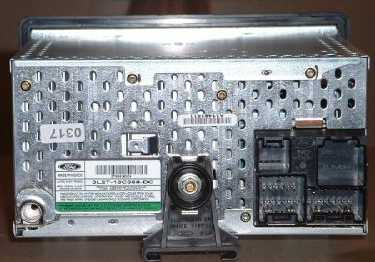 And here is a picture of a dashboard mounted 6 disc cd changer. But it won't physically fit in the dashboard of an 02' or prior crown vic either due to being a 1.5DIN profile at the rear like the dual media radio mentioned previously.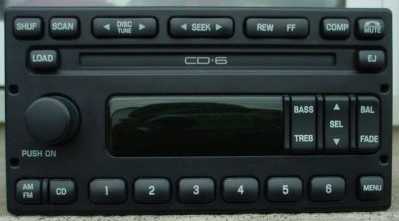 Also pay attention to the mounting system that retains the radio in the dashboard. Some ford radios are still held in place using screws that pass through metal protruding tabs on the radio and then into the dashboard. On such radios, the two holes that the din tools insert into on each side will not typically be present. You could probably modify your dash to accept such a radio, but it adds complexity to the install.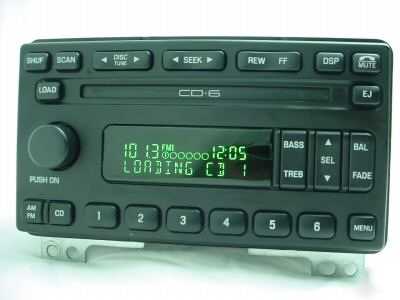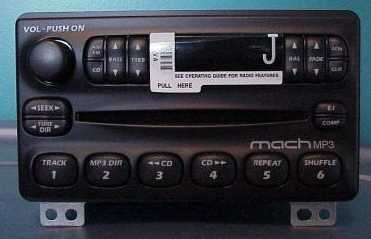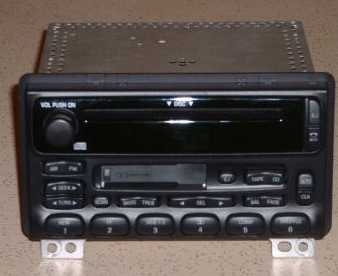 At a quick glance, the radio pictured below may seem like it would work in a 1998 or later crown vic. This is not the case though as this is the back of a "premium sound" radio. The connector on the left is for the power, the one on right is for low level signal wires that connect to the trunk mounted amplifiers. The radio pictured below does not have any amplifier chips built into it and any sound you may be able to get out of it will not be louder than a whisper.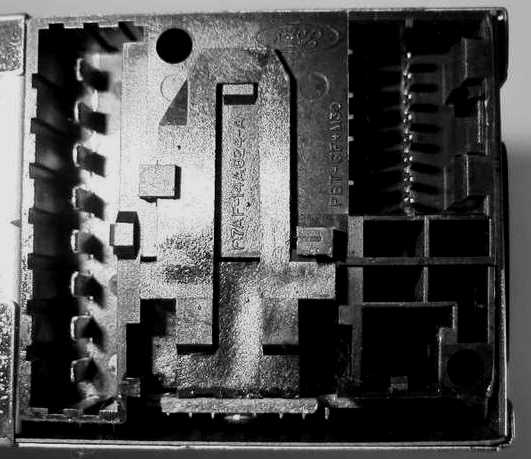 Also be aware that some of the upper level radio systems used in ford vehicles have factory installed subwoofers. In such vehicles, the mid & high pitched sounds are directed to the regular speakers. The low bass sounds are directed to the factory subwoofer. This system typcially sounds very good as far as factory installed sound systems go and is also more compact spacewise than a comparable sounding aftermarket stereo setup would be. But if you attempt to use a subwoofer enabled radio without the subwoofer, your music will sound very "tinny" because you'll be missing all the low bassy notes.

Below are some pictures of ford focus & mercury cougar radios. Not only do radios from these vehicles have completely different electrical connectors than the crown vic, but they have a faceplate that isn't flat, and many of these radios are also 1.5 din at the rear too.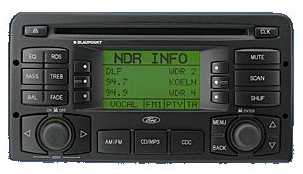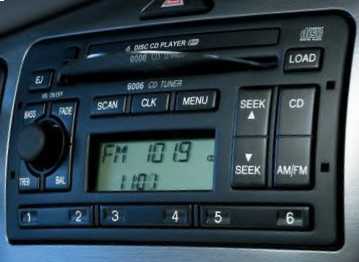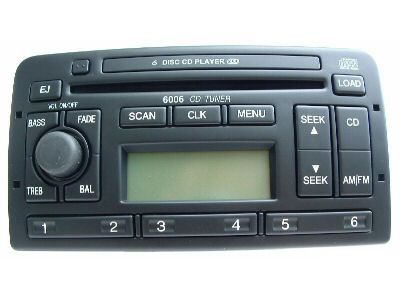 Some crown victoria owners have inquired whether selecting a different oem radio for their crownvic is really as difficult as mentioned above. If you go to your local ford dealership, the only choices for radios in your car will be what was factory installed in your vehicle that year. If you like to tinker, and don't mind some trial & error, then an oem radio swap from a different ford vehicle could work. For reference, click here to view a list of radio models that have been avaliable in different ford vehicles over the past few years.

And if you need your oem radio serviced, click here to view a list of ford authorized service centers.

EIA Color Coding Scheme:

Many aftermarket radios and radio adapter harnesses comply with the EIA (Electronics Industries Association) Standards color coding scheme of:

| | |
| --- | --- |
| 12 Volt to Battery | Yellow |
| 12 Volt to Ignition | Red |
| Ground | Black |
| Speaker (Right Front) | Gray (+), Gray with Black Stripe (-) |
| Speaker (Left Front) | White (+), White with Black Stripe (-) |
| Speaker (Right Rear) | Violet (+), Violet with Black Stripe (-) |
| Speaker (Left Rear) | Green (+), Green with Black Stripe (-) |
| Antenna Out | Dark Blue |
| Amp Remote (Turn on) | Dark Blue with White Stripe |
| Illumination / Dimmer | Orange |
| RCA/Molded: Red | Right |
| RCA/Molded: White | Left |
Other points of intrest:

If your crown victoria has a factory radio with cdchanger controls and a ford branded cdchanger (XU3F-18C829-AB) is later installed, the part number for the cable that connects from the back of the radio to the trunk is XU3F-14588-DA. If the cd changer is being installed in a vehicle with bucket seats and a center console, such as a mercury marauder or a police interceptor, there is a shorter cable (XU3F-14588-AB) avaliable that is designed for console mounted cdchanger applications. On crown vics with cd changers installed at the factory, the changer itself is physically located in the trunk against the drivers side rear quarter panel behind the wheel well.

Music CD's only hold around an hours worth of music, some have significantly less per disc. To listen to a few hours of music without continously swapping discs, many people opt to install a CD changer to automate the process. If you have the harness already in the car and a radio with cd changer controls, adding a changer should be easy, just open the trunk and plug it in.
CD changers are an expensive if purchased from ford. OEMs tend not to manufacture audio components inhouse, instead they contract with major manufacturers such as sony, pioneer, clarion, etc. for the task. That's good news if you're looking to save money, because there's a good chance that you can use a non-ford branded changer with your stock radio. Try contacting the people at www.crutchfield.com for information on this option.
If going the pre-owned route, do be aware that CD changers have a finite lifespan and will eventually "wear out" and need costly repairs.
Another option, is to put your tunes into MP3 format. At a reasonable 128kb/s sampling rate, one can fit around 10 hours of music onto a standard cd recordable disc.
This option has a few advantages including:

No trunk space taken up by bulky changer
No $500 wallets of music cd's to get stolen from vehicle
MP3 deck can also play regular audio cd's

Disadvantages:

Must have a computer with cd recordable drive and ample free harddrive space to make MP3 discs
Must acquire and learn how to use "ripping" programs to convert audio CD's into MP3 format
Must expend time to convert and place mp3's onto recordable media
One can download unique MP3's from a place like www.mp3.com and/or one can convert selected cd's from their home music library into mp3 format.

MP3 capable car decks have steadily been coming down in price, some entry level decks can be purchased for as low as $200. Most independent car audio shops now stock mp3 capable decks, as do big chains such as BestBuy and CircuitCity. Additionally, some newer ford vehicles come with a factory mp3 deck that will fit in a crown vic. Visteon also sells such radios aftermarket too. And for the electronic enthusiast, www.mp3car.com has details on constructing a custom mp3 player for your car.


As another option, an adapter that inserts into the tape deck of the factory radio and contains a cable with a headphone jack on the other end that will connect to an seperate external portable mp3 player could be used. While playing MP3 cd's through an adapter of this type will typically yield better sound quality than listening to a cassette tape, overall sound quality is poor compared to installing a real MP3 headunit. Similarly, adapters exist that plug into the radio antenna feed and broadcast the signal of an external cd player over a preset fm channel. These devices do typically yield better sound quality than their tape deck adapter counterparts, but still not as good as a headunit with mp3 capability integrated into it. So if you've driving a rental crown vic for a few days while on a business trip, one of the adapters discussed above would be very appropriate. But if you own your crown vic outright and have no plans to sell it any time soon, you should do the job right and replace the factory headunit with an mp3 capable counterpart. Not only will this yield you better sound quality, but it will also eliminate the possibility of an external cdrom device sliding around the car and possibly obstructing access to the brake and accelerator pedals. It will also eliminate the possibility of an external cdrom device becoming an airborne projectile and causing personal injury in the unfortunate event that your crownvic becomes involved in a collision with another vehicle or object.



Radio Reception Technical Service Bulletin (TSB)


In TSB 09-19-2, ford motor company addresses problems that are sometimes encountered with the radio antenna integrated into the rear window glass. Officially, this TSB is only applicable to 2008-2010 crown victorias. But unofficially, it also covers the 1995-2007 crownvics that use the same radio antenna setup. You can view a copy of this tsb by clicking here.


In TSB 04-24-5, ford motor company addresses repairing damaged rear window defroster and antenna grid lines. You can view a copy of this tsb by clicking here.

TSB 04-1-7 for the 2003-2004 lincoln ls also has some information that might be useful to crownvic owners. This TSB involves relocating a windshield motor wiper ground to eliminate a clicking/popping sound that occurs on am radio stations. Although crown victorias do not have a rear windshield wiper, crownvics in active police use might have grounds for aftermarket police equipment located near the rear windshield frame that could cause the same problem.


Also, TSB 04-1-7 has a note about installing aftermarket cellular telphone antennas on the rear windshield that is applicable to crownvics too. "CELLULAR PHONE ANTENNA BASES INSTALLED OVER THE ANTENNA GRID ON THE BACK GLASS CAN AFFECT AM RADIO RECEPTION/PERFORMANCE. DO NOT PERFORM THIS TSB IF THERE IS A CELLULAR PHONE ANTENNA BASE INSTALLED OVER THE ANTENNA GRID." Window mounted external cellular telephone antennas were popular in my area of the country back in the 1990's and early 2000's because of poor reception issues from the limited number of cellular telphone radio towers. External cellular phone antennas have fallen out of favor in the past few years around here because the cellular network carriers have spent lots of money errecting large numbers of cellular base stations making poor reception a non-issue in most spots. But if you're living in a sparsely populated rural area of the country, you might sometimes still encounter cars with external cellular antenntas on the rear window glass.

Radio Reception Special Service Message (SSM)


Most automotive service technicians will already be familar with Technical Service Bulletins (TSBs) that ford motor company uses to communicate with their dealership service personnel. But there are also precursors to TSBs called "Special Service Messages" (SSM) that many aftermarket technicians have not heard of. These rough notes about various service issues are distributed via ford motor company's oasis network and might some day end up developed into a full TSB. Note that not all SSMs get developed into TSBs. And SSMs also get discarded after the affected vehicle becomes 10 years of age.

Anyways, here are a few radio related SSMs affecting the crown victoria:

17442 2000-2004 CROWN VICTORIA POLICE INTERCEPTOR - LOSS OF FM RADIO RECEPTION
SOME 2000-2004 CROWN VICTORIA POLICE INTERCEPTORS MAY EXHIBIT A LOSS OF FM RADIO RECEPTION AFTER USING THE POLICE TWO-WAY RADIO. THIS MAY BE CAUSED BY A LACK OF APPROPRIATE FILTERING (DIODE FAILURE) IN THE RADIO. TO SERVICE, CONTACT THE NEAREST AUTHORIZED RADIO SERVICE CENTER OR CALL 1-800-367-3333. INFORM THE SERVICE CENTER THAT THE RADIO IS FROM A POLICE INTERCEPTOR WITH POOR OR NO FM RECEPTION.
EFFECTIVE DATE: 12/17/2003

18426 2001-2005 TOWN CAR/LINCOLN LS, 2001-2004 CROWN VICTORIA/GRAND MARQUIS AND 2001- 2002 CONTINENTAL - AM/FM AND CELLULAR PHONE RECEPTION INTERFERENCE - SERVICE TIP
SOME 2001-2005 TOWN CAR/LINCOLN LS, 2001-2004 CROWN VICTORIA/GRAND MARQUIS AND 2001-2002 CONTINENTAL VEHICLES MAY EXHIBIT POOR AM/FM RECEPTION. THIS MAY BE CAUSED BY AFTERMARKET TINTING OF THE BACK GLASS. MANY AFTERMARKET TINTING PRODUCTS ARE A METALLIC COMPOSITE MATERIAL CAUSING THE ANTENNA TO SHORT OUT TO THE DEFROSTER GRID. TO SERVICE, THIS TINTING MUST BE REMOVED, WITH GREAT CARE TAKEN NOT TO DAMAGE THE DEFROSTER GRID. IN ADDITION, WHEN INSTALLING A CELLULAR PHONE ANTENNA, DO NOT PLACE THE PHONE ANTENNA BASE OVER THE RADIO ANTENNA GRID IN THE REAR GLASS. THIS CAN CAUSE RECEPTION PROBLEMS FOR THE AUDIO SYSTEM AND/OR THE CELLULAR PHONE.
EFFECTIVE DATE: 02/17/2005

19583 2007 CROWN VICTORIA / GRAND MARQUIS - STATIC ON RADIO WHEN REAR WINDOW DEFROSTER ACTIVATED
SOME 2007 CROWN VICTORIA AND GRAND MARQUIS VEHICLES MAY EXHIBIT STATIC ON THE RADIO WHEN THE HEATED REAR WINDOW DEFROSTER IS ACTIVATED. THIS MAY BE CAUSED BY DAMAGE TO ONE OR MORE OF THE REAR WINDOW HEATED GRID LINES. CHECK THE AREA APPROXIMATELY 30 CM (11.75") FROM THE DRIVER'S SIDE OF THE GLASS, 4TH GRID LINE FROM THE BOTTOM FIRST, AND IF NOTHING FOUND COMPLETE THE INSPECTION OF ALL GRID LINES. REPAIR ANY DEFECT USING PM-11, MOTORCRAFT REAR WINDOW DEFROSTER REPAIR. REFER TO WORKSHOP MANUAL SECTION 501-11.
EFFECTIVE DATE: 01/23/2007



All 1995-2010 crown victorias have a very similar radio antenna setup. So even if an ssm doesn't officially apply to your vehicle, the information in the message might still be useful because you have the same radio antenna hardware in your car. The exception to this generalization is the 2005 model year crown victorias that have a rubber ducky attenna on the passenger's rear quarter panel instead of having the radio antenna integrated into the rear window glass.




Radio Antenna Troubleshooting Tips


The crown victoria rear window with the am/fm radio antenna integrated into it works really good in most crownvics with reception comparable to an external mast antenna. However, a small number of crownvics have problems with this antenna arrangement and get poor reception. Below are a few possible troubleshooting ideas:

Some rear window tint films can adversly affect radio reception. It's really difficult to remove the rear window tint film without destroying the defroster & radio antenna grid lines contrary to what the ford technical service bulletins suggest. Installing a new rear window assembly is very effective at uninstalling window tint films, but it's also an expensive option. Note that not all aftermarket window tint films kill radio reception. Some crownvics with tinted windows get great reception.
Poor reception might be due to the radio itself. Circuitry inside the radio can wear out and give poor reception even with the best antenna. Some radios like the am/fm ultra low cost unit used in police interceptors often had poor reception even when they were new. Installing a high quality aftermarket radio or an upper level ford radio might improve your reception dramatically.
The 2005 crown victorias have an external rubber ducky mast antenna located on the passenger side rear quarter panel. If you can't get your rear window antenna to work properly, you might be able to retrofit this setup into your crownvic and eliminate the rear window antenna all together. Ford discontinued this antenna setup after the 2005 model year because it's an attractive target for vandals and is also a fragile setup that can accidentally get broken in places like car washes. There were also scattered reports of police officers getting attacked with their own car's radio antenna during arrests. The external mast antenna setup should work fine in most civilian applications as long as you're careful though.
The 1992-1994 crownvics had an antenna mounted on the front passenger side fender. This radio antenna setup would be a more involved project to install than the 2005 rear quarter one. But there is a motorized version of the 92'-94' antenna avaliable that will retract when the radio is turned off so that your antenna isn't an attractive target for vandals when your vehicle is parked.
You could stop listening to the am/fm radio all together and listen to xm or sirius satellite radio instead. You would still need an external antenna, but low profile units are avaliable that mount to your roof or trunk lid. If your police interceptor was ever in active police duty, it probably already has some extra holes drilled through various body panels that you could reuse for a satellite radio antenna wire too.