Below are pictures of a driveshaft removed from a 1997 ford crown victoria police interceptor





This driveshaft is aluminum which minimizes corrosion in relation to the steel driveshaft used in civilian crownvics.







Here's the slip yoke. If you're purchasing a salvage yard driveshaft, watch for corrosion on this part.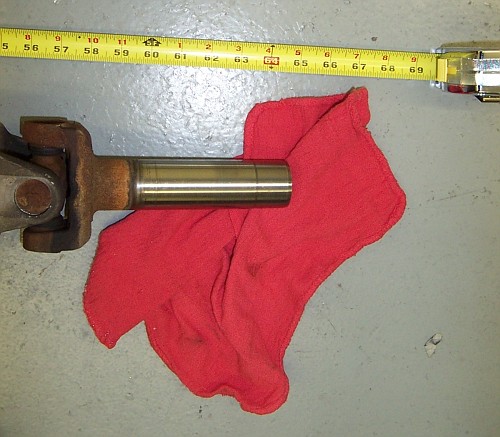 The lubed-for-life u-joints in these driveshafts seem to have a good long service life, often going over 150k miles without any problems.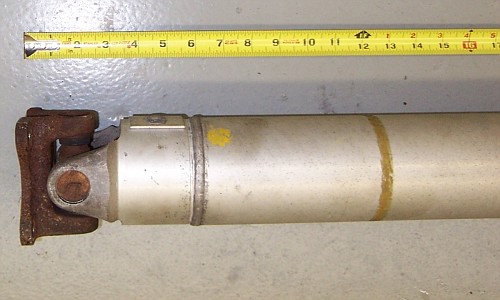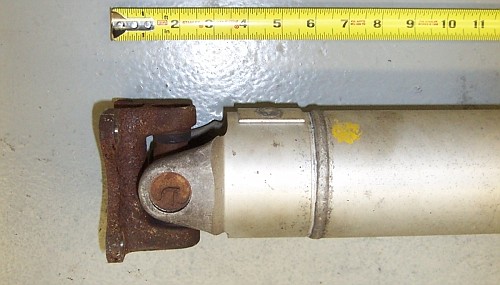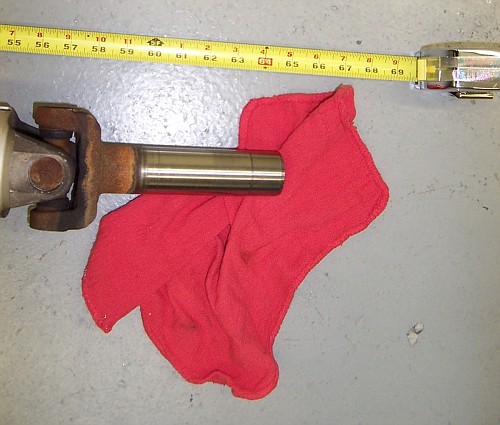 Some pictures of a 1998 crown victoria police cruiser with the driveshaft still installed

The rear tailshaft of the transmission, transmission crossmember, and the front passenger's floorpan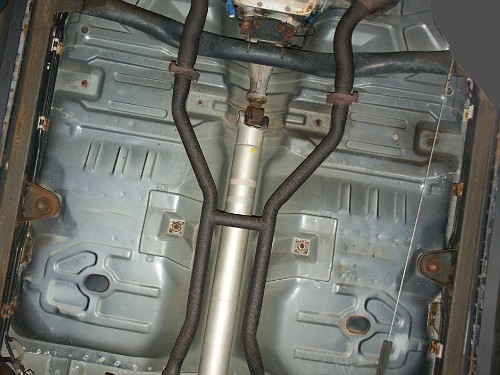 The floorpan shown here is where the front seat bolts attach and where the front passenger's feet would normally rest.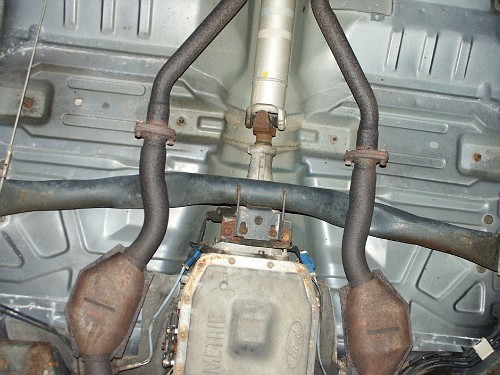 Here's the differential flange, the two exhaust system mufflers and the part of the floorpan under the rear passengers.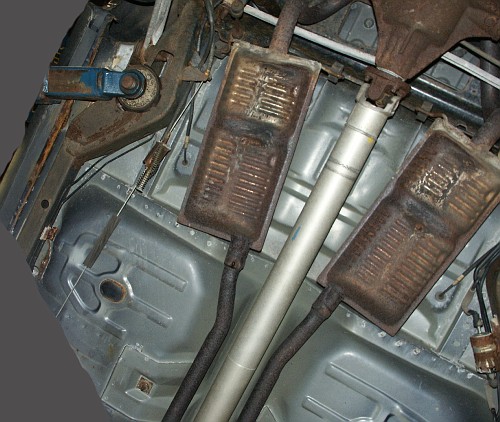 Here you can see the trunk floorpan, differential, evaporative emissions box, and various other components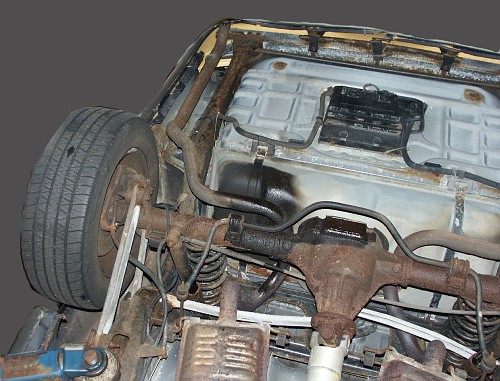 To remove the differential flange bolts a 12mm 12-point socket is used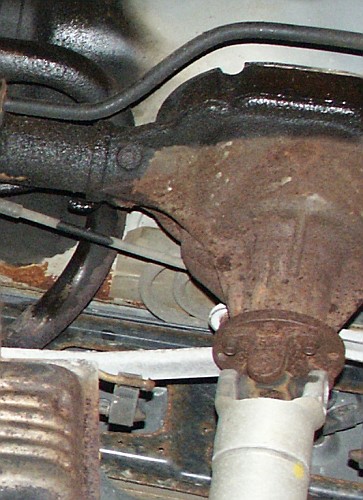 The car from the rear behind the differential. If you look closely, you can see part of the driveshaft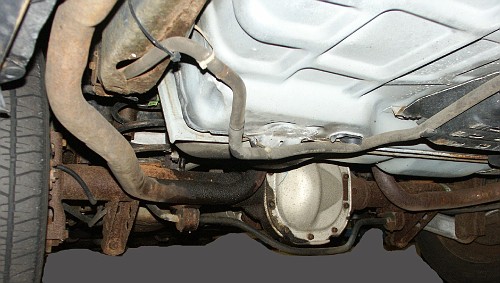 The differential mounting flange from the back. And yes, this car needs new rubber muffler hanger insulators installed.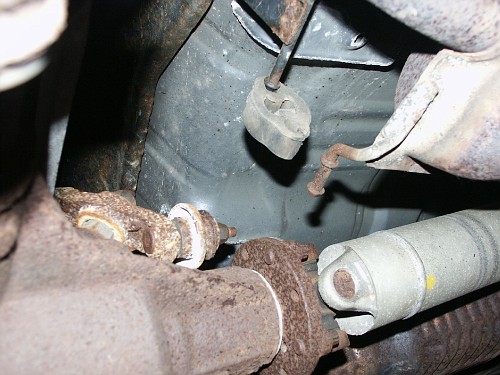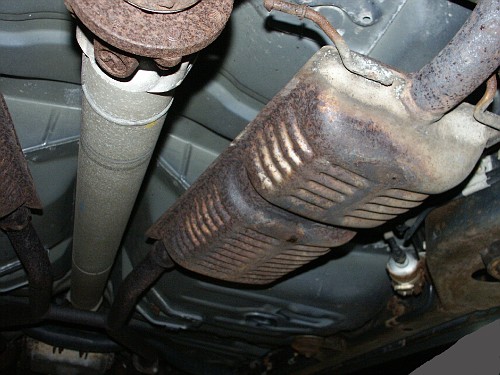 Here's the front passenger's seat crash reinforcement bracket where the passenger's seatbelt latch attaches.Also note the words "POLICE" written on the driveshaft.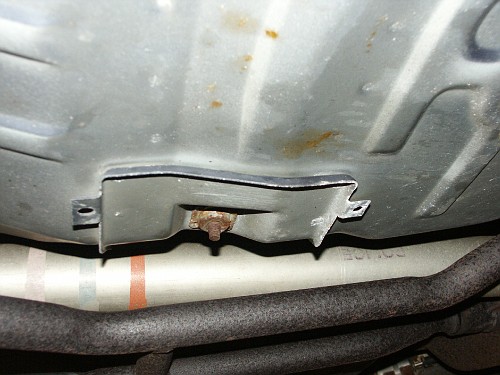 If you source your driveshaft from the local salvage yard, do be aware that the slip yoke will have some surface rust on it if the driveshaft has been removed from the transmission for a while. Here are a couple pictures taken by Steve83 on www.crownvic.net showing some surface corrosion on this part.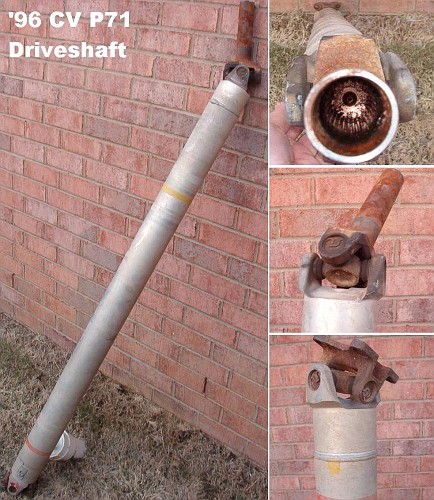 In this picture two slip yokes are shown. The one attached to the aluminum driveshaft is from a police interceptor. The one attached to a steel driveshaft is from a civilian crownvic.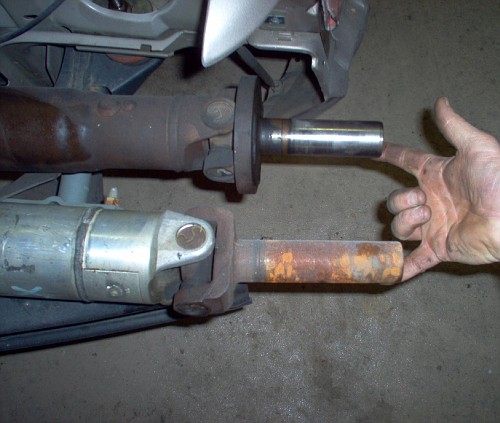 Do note that if you are upgrading a 1992-1994 crownvic with the AODE transmission to a police interceptor aluminum driveshaft, you will need to use a driveshaft from a 1992-1994 crownvic due to the different diameter of the slip yoke where it inserts into the transmission. If you really want to use a 1995-2010 driveshaft in your 1992-1994 crownvic, you can also replace the transmission extension housing in your 1992-1994 car with one from a 1995-2002 crownvic that has the proper diameter slip yoke holes in it. Starting in the 2003 model year, ford decontened the vehicle speed sensor (vss) so you cannot use a 2003+ extension housing in an earlier car because the mounting hole for the vss is not there. You can however use a 2003+ driveshaft with the earlier 1995-2002 extension housings.