It is a common concern of ford crown victoria owners to state something to the effect of "my blower motor only works good on the high speed". In which case, the blower motor might not spin on any speed other than high. Or the blower motor might spin on speeds other than high, but turn rather slowly and move minimal amounts of air. The most likely culprits here are the blower resistor under the hood and it's associated electrical wiring pigtail.

Here's the inside of our project car, a 1997 crown victoria police interceptor p71.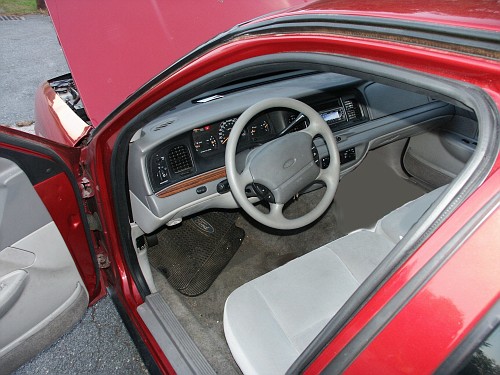 And here are the manual climate controls.

We also have an aftermarket radio installed too. That big black button in between the climate controls and the radio is to pop the trunk open. Civilian vehicles would have a clock there instead of a button.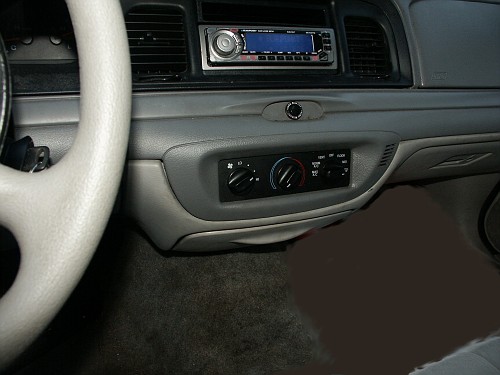 Here's the wiring pigtail kit that is going to be installed.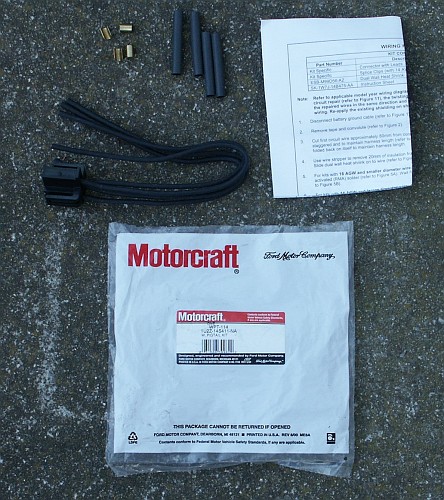 Blower Resistor Wiring Pigtail Part Numbers


And a closeup of the part number tag.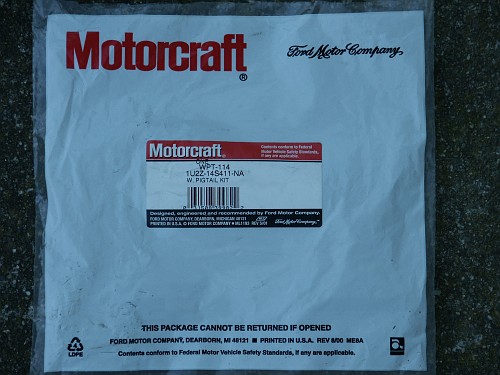 And the instruction manual that ford includes with the wiring pigtail kits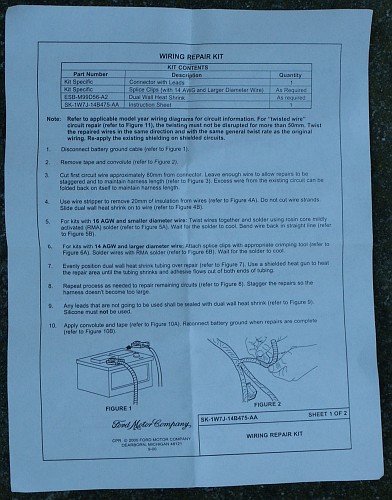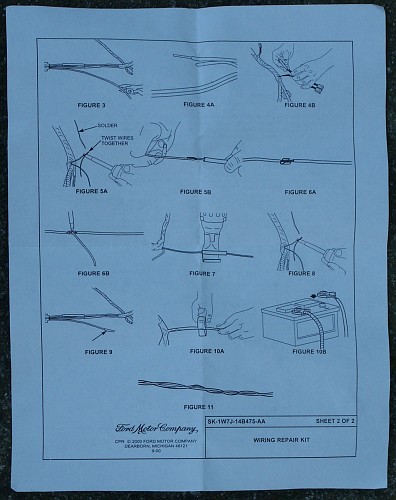 Here are a couple closeup pictures of the new blower resistor pigtail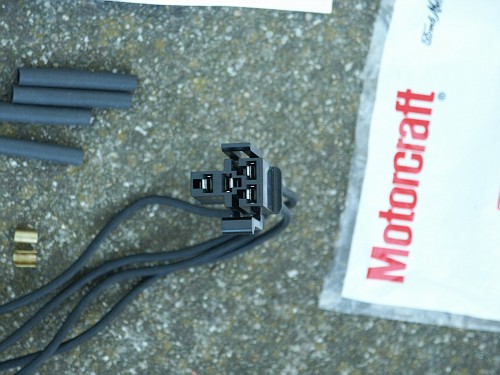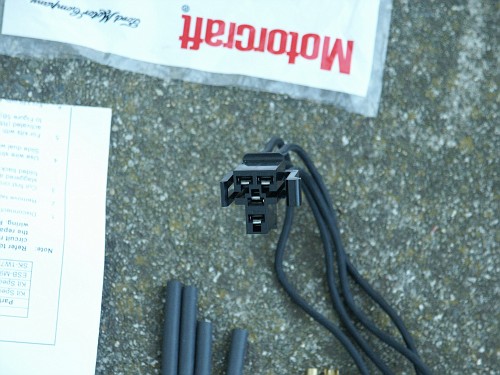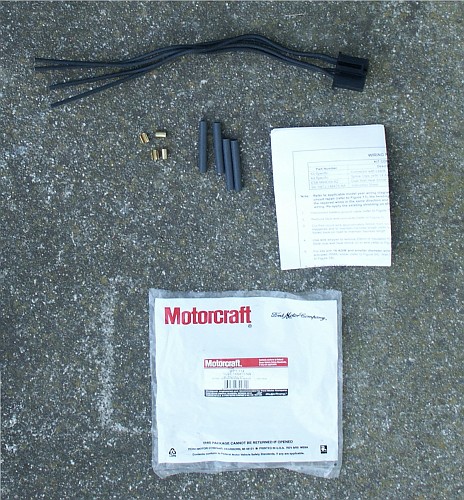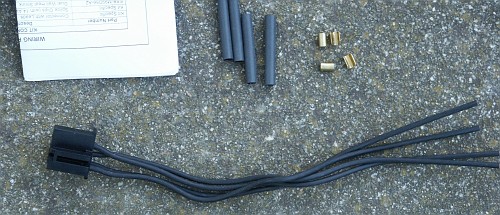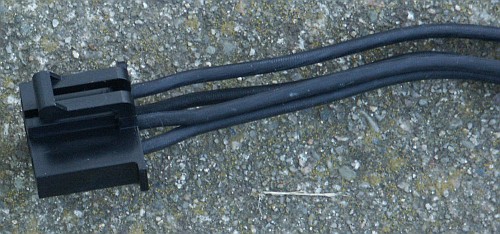 The blower resistor wiring pigtail is also avaliable aftermarket from NAPA with color coded wires. But the napa blower resistor pigtail does not include the wire crimps or adhesive heatshrink tubing like the resistor pigtail kit that you can purchase at your local ford dealership.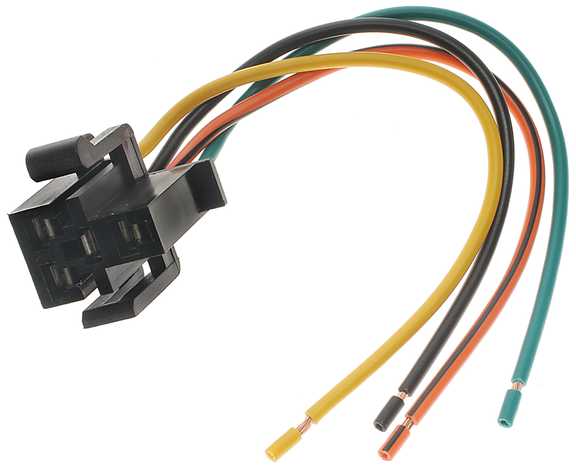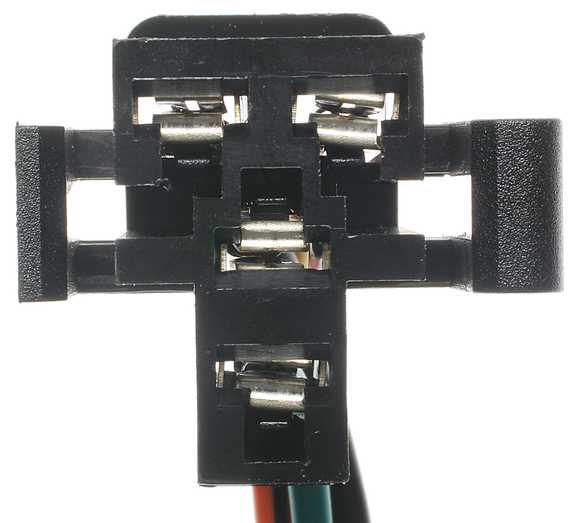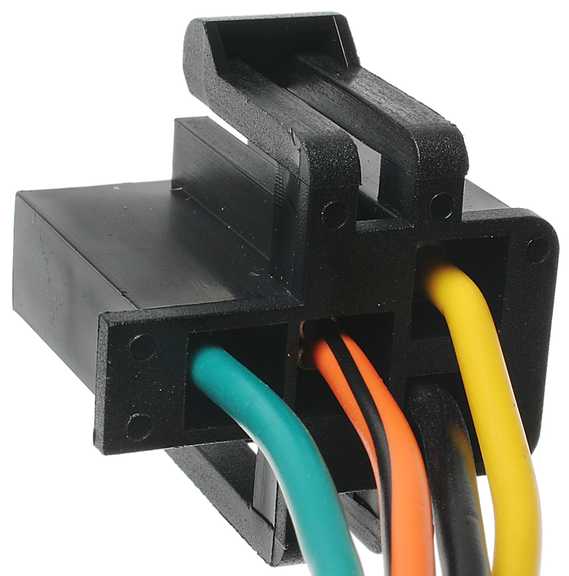 And here is the blower resistor pigtail after being removed from the blower resistor.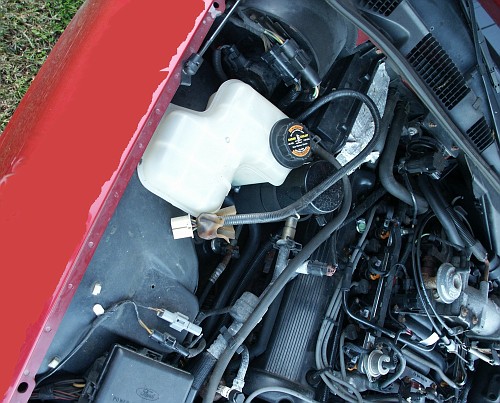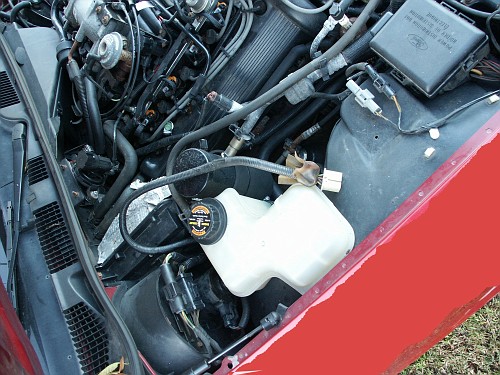 Here's the harness with the resistor pigtail cut off.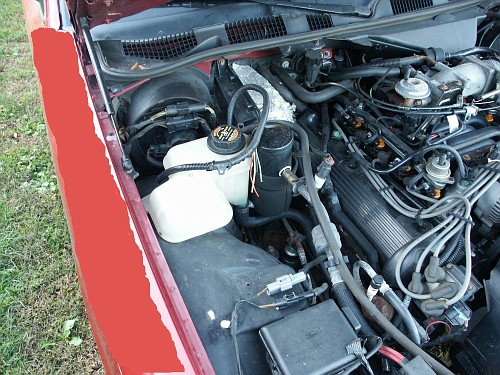 And after the wiring insulation has been stripped off the ends, the heatshrink tubing slid on, and the crimp connectors crimped on.

Remember to slide the heatshrink tubing on the wiring before crimping the connections together.

Also, make sure to stagger the splices at different locations so that you don't end up with a really huge diameter glob of crimp connectors next to each other.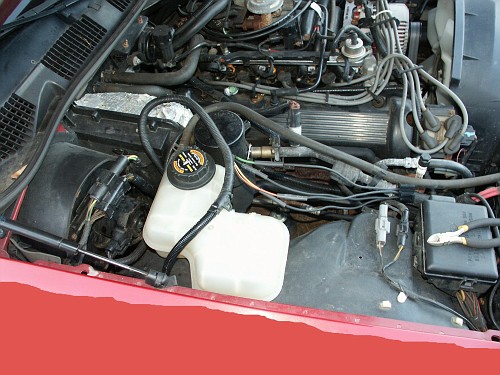 And after heating a the heatshrink tubing to shrink it down in size.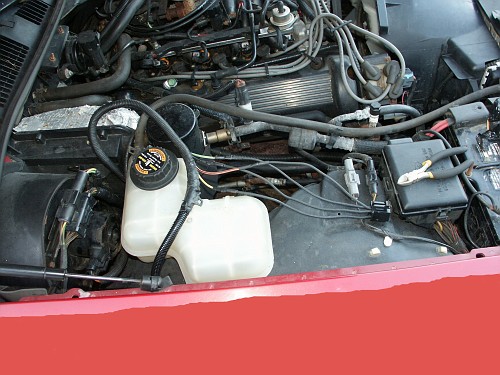 Now the wiring is placed back inside the black looming and wrapped with some electrical tape.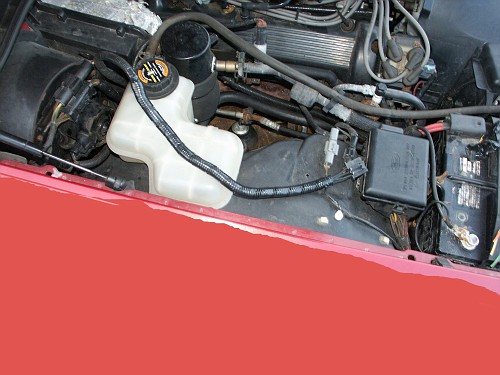 And now the wiring is placed back in the proper position to connect to the blower resistor and then slid onto the resistor connector.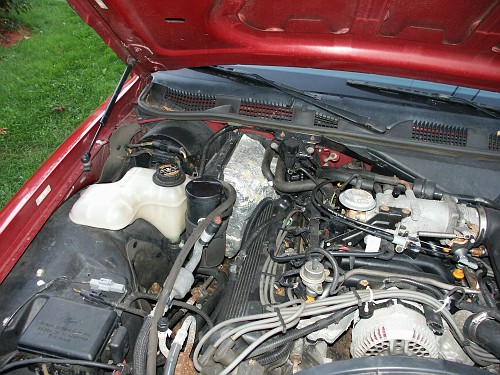 And a few more pictures from various angles around a 1997 police cruiser engine bay.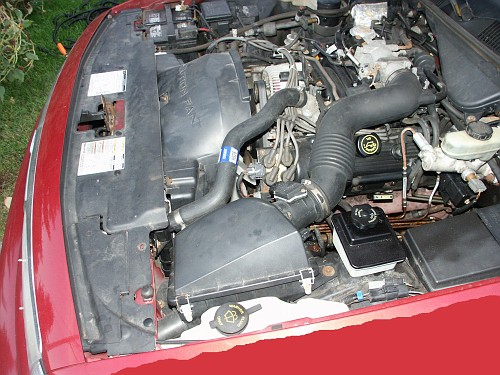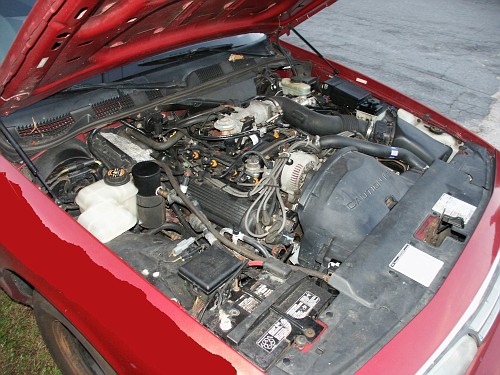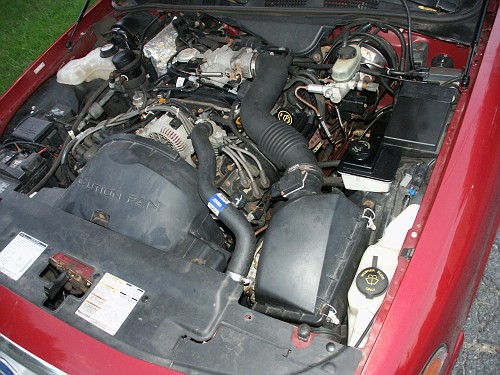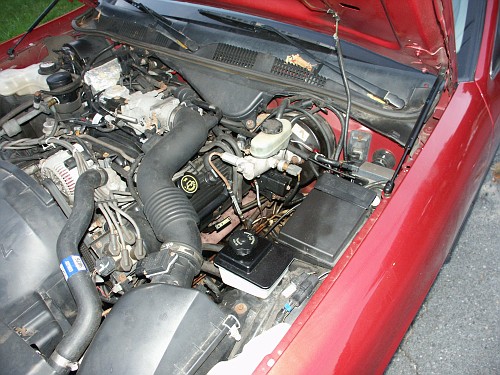 The new pigtail install looks quite professional. Most people would not be able to tell that a new wiring pigtail had been spliced on at a quick glance.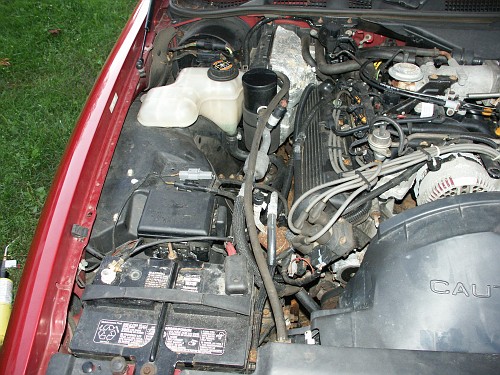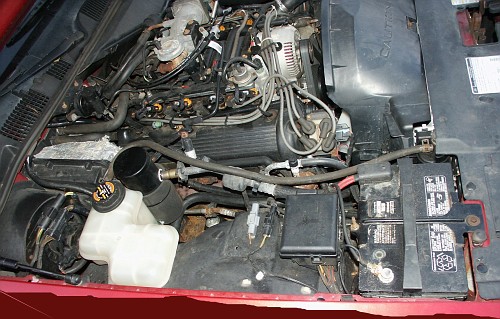 Blower Resistor Part Numbers


Ford Part Number

Motorcraft Part Number

NAPA Part Number

SMP Part Number
(Standard Motor Products)
Comments

E3AZ-19A706-A
YH-1702
ECH-BR307

(Manufactured by SMP)

RU-403

Blower Resistor
1990-mid2005 crown victoria and grand marquis
with manual climate controls
without eatc
manufactured before 12/06/05
4W7Z-19A706-A

YH-1717



RU-408

Blower Resistor
2005-2010 crown victoria and grand marquis
with manual climate controls
without eatc
manufactured from 12/06/05
Will not work in 1990-2004 crown victoria evaporator housings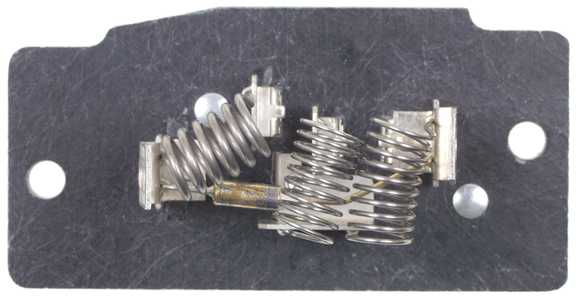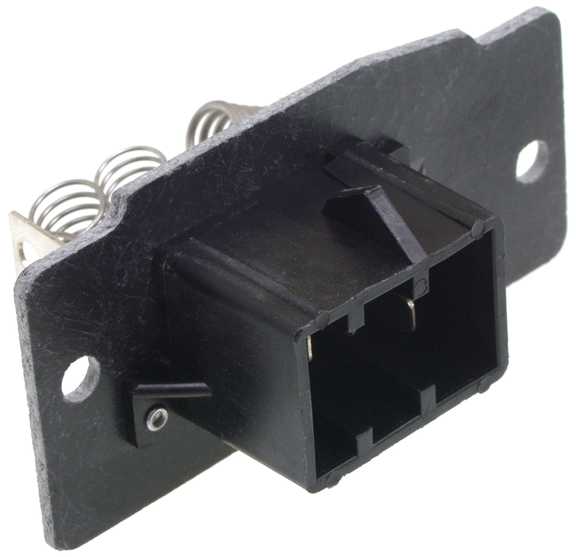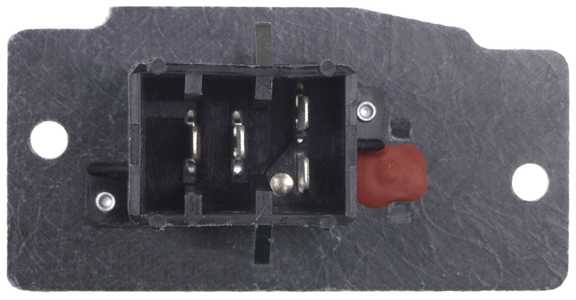 And here's where the blower resistor is located.

Note that this particular car is a 2000 crown victoria police interceptor. And that various parts have been removed including:
-Heater core hoses
-Windshield wiper cowl
-Engine assembly
-Transmission assembly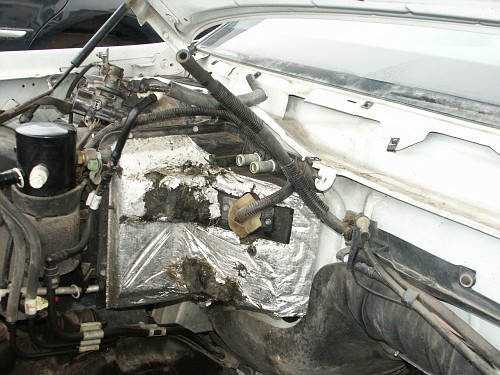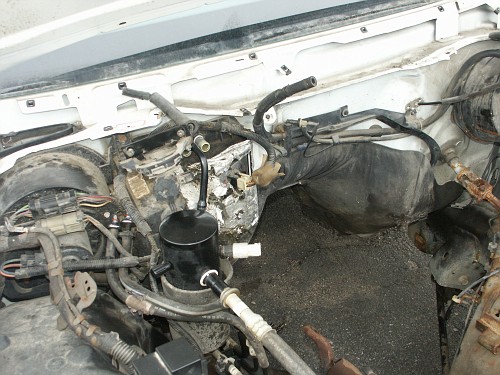 And here's a 1998 crown victoria police interceptor with the blower resistor removed.

With the engine installed, note how limited clearance is between the back of the valve cover and the a/c evaporator housing.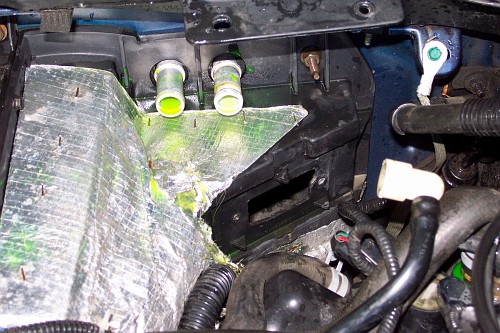 And the blower resistor itself.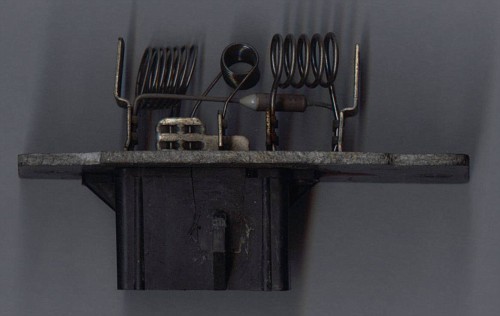 The wire wound coils are constructed of nichrome wire like you'd find in your kitchen toaster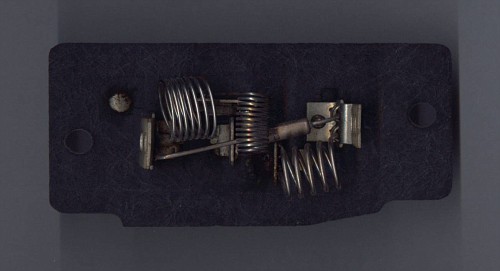 Here you can see the thermal fuse which blows if the temperature gets above 250°F. Once it's blown, it does not reset and the resistor assembly must be replaced.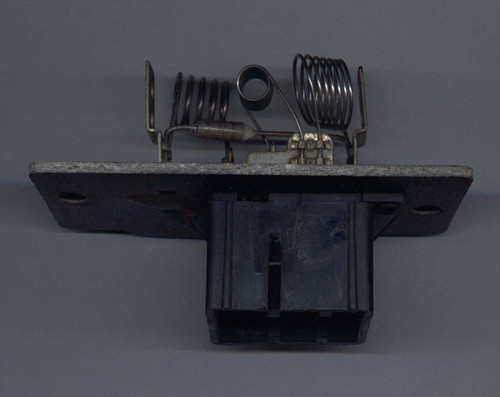 A couple of the connector pins were somewhat rusty on this particular resistor.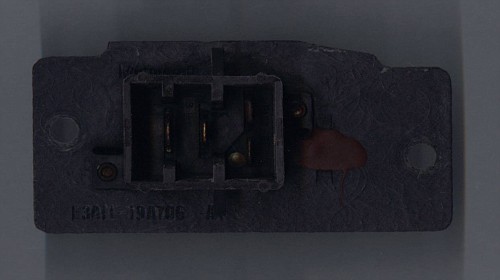 And a diagram of the components inside the blower motor resistor assembly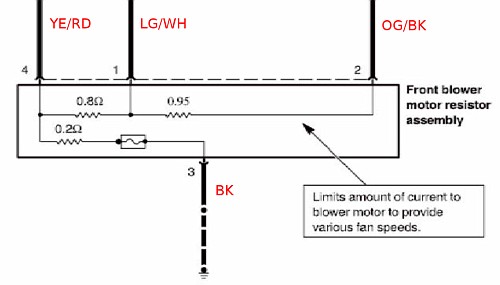 Here are a few pictures of a burned resistor wiring pigtail from a 1998 police interceptor. The blower motor did spin on speeds other than high, but spun rather slowly.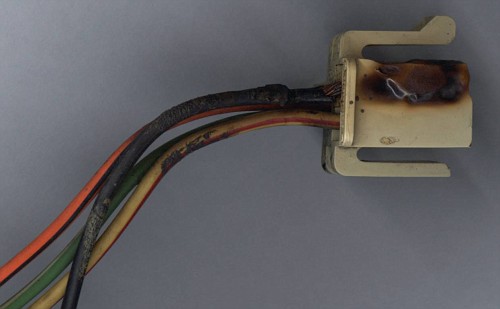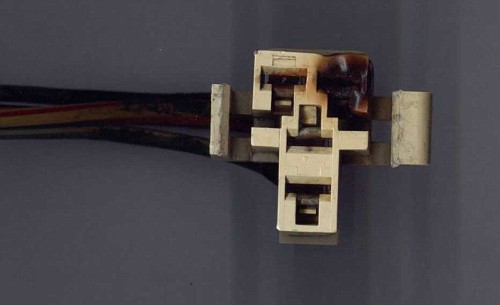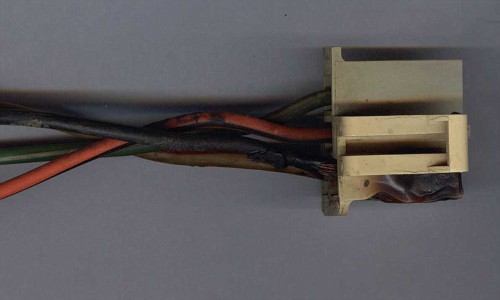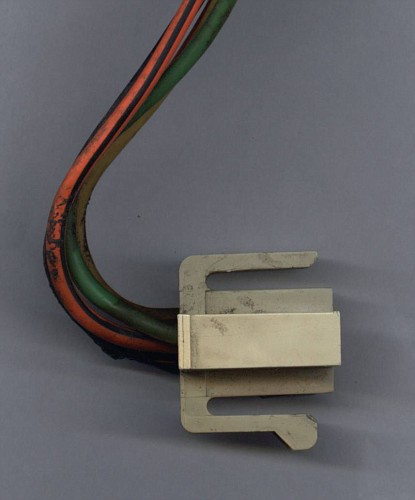 While you are replacing the blower resistor, it would be a good idea clean debris that may have lodged on the evaporator core. You can do this by removing the blower motor and reaching in with your hands to pull off any remaining debris, and then washing off the remainder using a garden hose. Your new blower motor resistor will have a rather short life if an inadequate amount of air is flowing by to cool it.

To remove the blower motor, remove the 4 retaining fasteners and pull forwards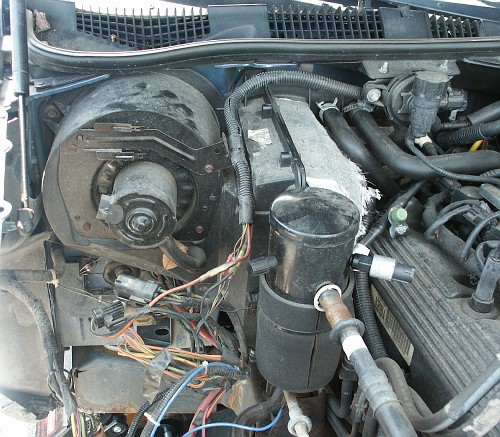 Now that the blower motor is out, you can reach inside to the right and get the debris off of the evaporator core.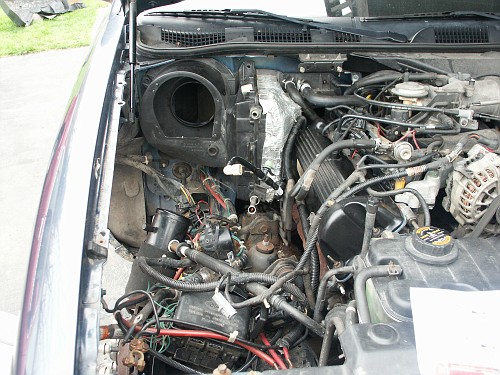 You don't have to pull the whole evaporator housing out of the car like this. But it's difficult to get good pictures inside the evaporator housing with the housing still installed on the car. If you would like to view some additional pictures of the evaporator housing, click here.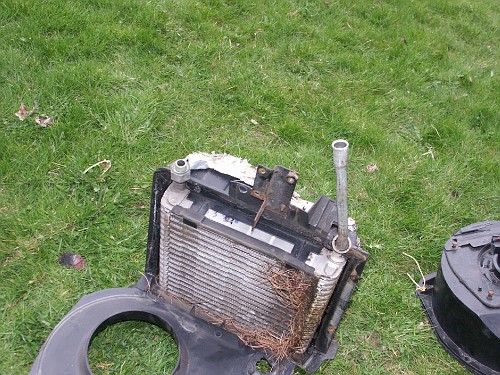 The evaporator acts like an air filter. In this case it caught pine needles and various plant pollens from the outside air. And when on max a/c it had recirculated from the interior passenger compartment flowing through it and caught linen debris from the passenger's clothing. Passengers have been prohibited from smoking cigarettes inside this vehicle, so there aren't any tar deposits on the evaporator core.

These cars do not have a seperate cabin air filter to contend with like in some other fords.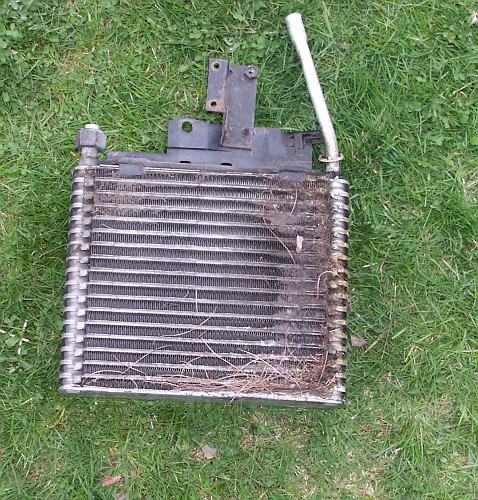 And here are a few pictures of a 1994 crown victoria with the dashboard removed. The object here is to illustrate where the blower motor resistor is in relation to the interior of the car.

First loosen the dashboard from the body of the car
(picture courtesy of Steve83 on www.crownvic.net)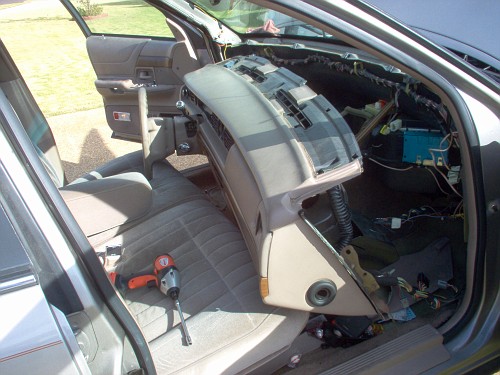 Then seperate the wiring harnesses and the dashboard can be removed completely


(picture courtesy of Steve83 on www.crownvic.net)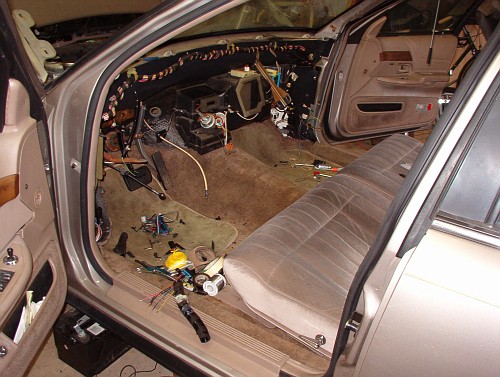 Driver's side


(picture courtesy of Steve83 on www.crownvic.net)





Passenger's side


(picture courtesy of Steve83 on www.crownvic.net)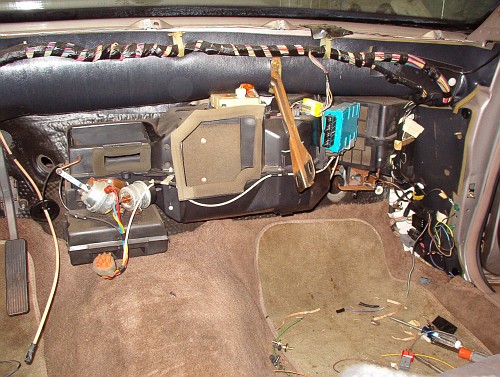 Passenger's side closeup


(picture courtesy of Steve83 on www.crownvic.net)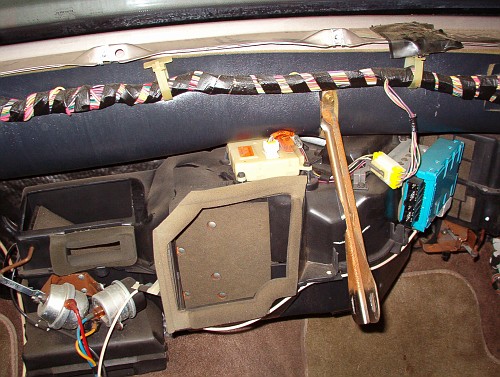 Now pull the heater plenum off of the firewall and the back of the blower motor resistor is visible
Note: Heater core present
(picture courtesy of Steve83 on www.crownvic.net)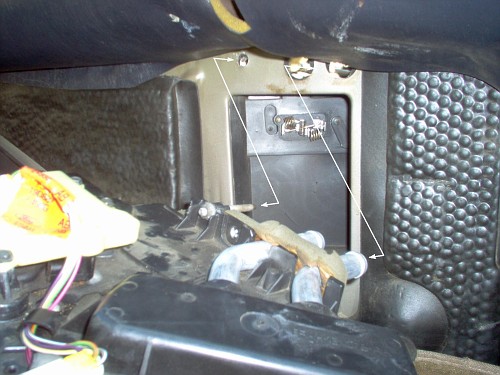 The back of blower motor resistor from a different angle
Note: Heater core removed


(picture courtesy of Steve83 on www.crownvic.net)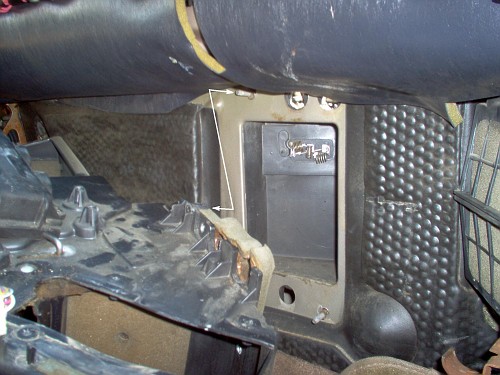 Blower resistors for 2005-2010 crownvics

Here are a some pictures of the blower resistor used in the mid-2005 and later crownvics with manual climate controls. There are no obvious problems with this resistor or wiring pigtail, but the donor car no longer needs these parts anymore since it was wrecked and is being "parted out" by a salvage yard.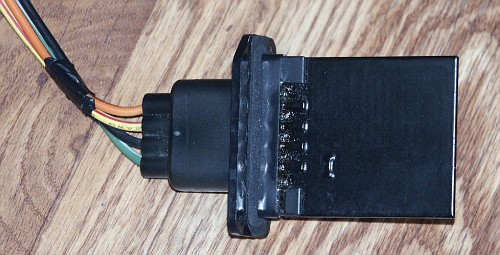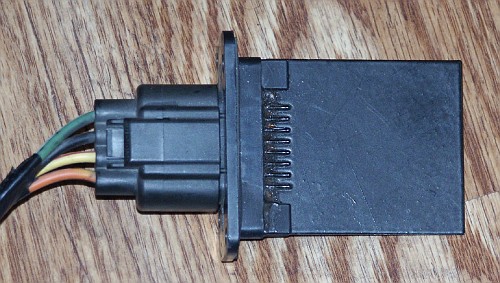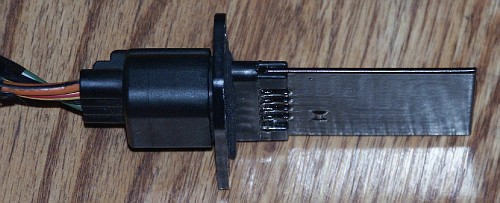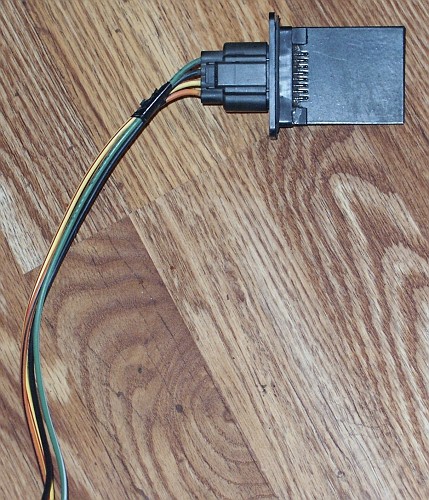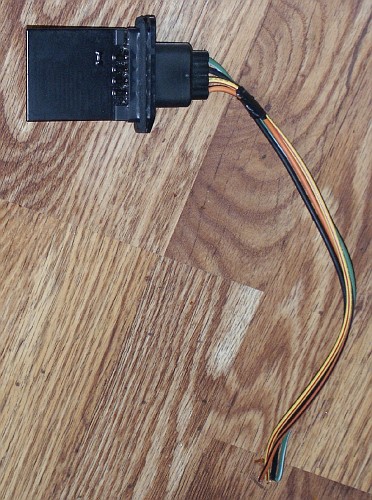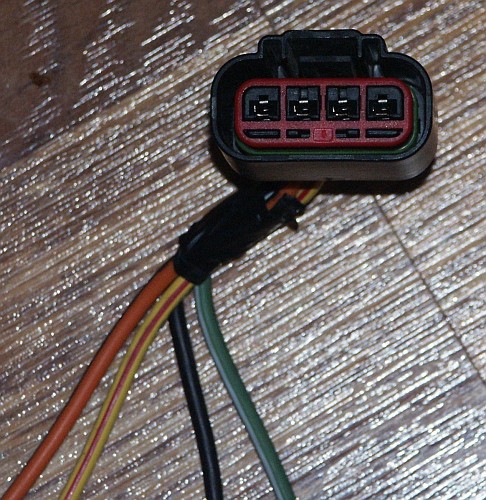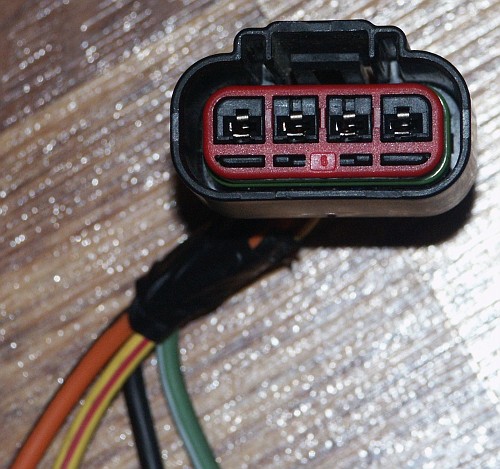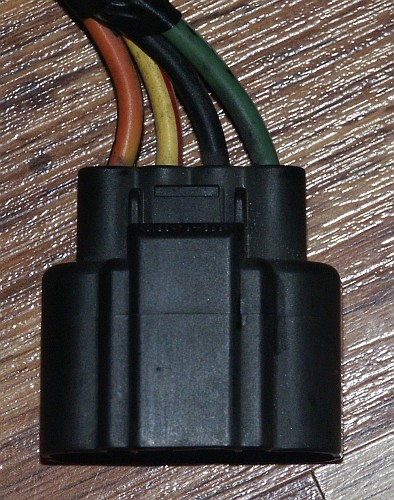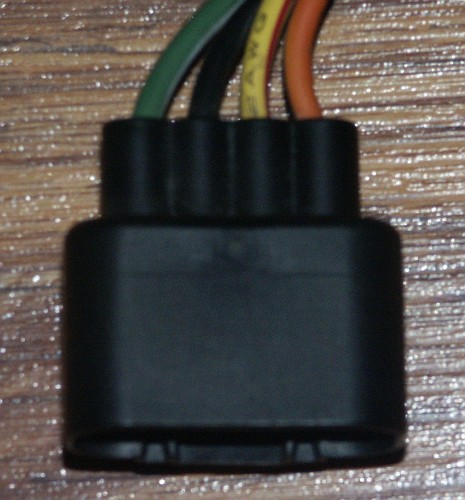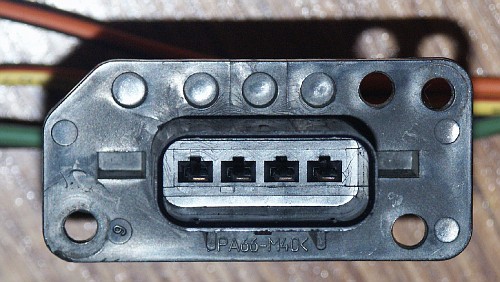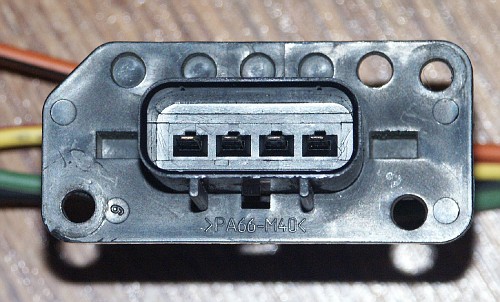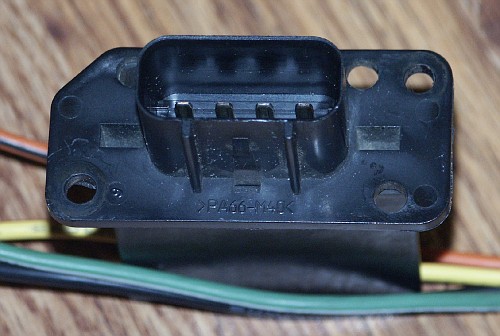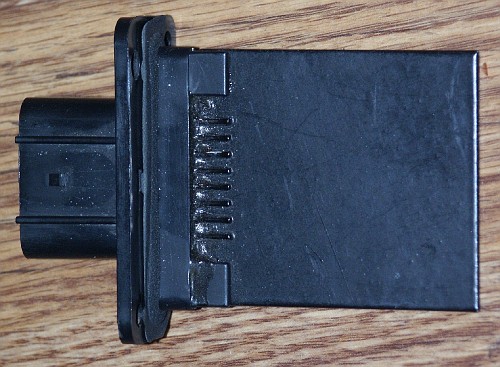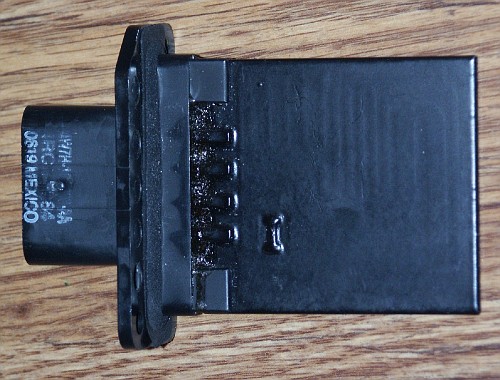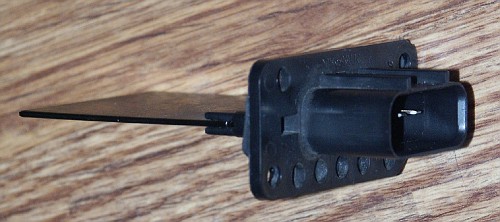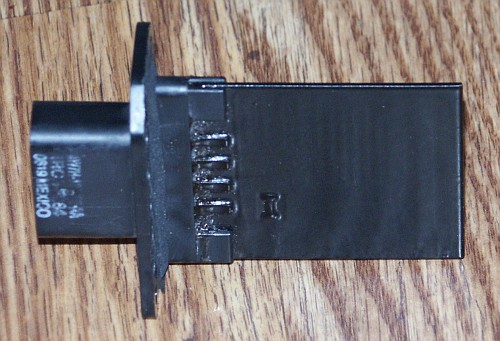 Blower resistors for 1980's "box body" crown vics.



GM_Guy on www.crownvic.net had to replace a blower the blower motor resistor in his 1989 grand marquis and made the following observations:


1983-1989 crownvics without the automatic temperature control system use the same E3AZ-19A706-A blower resistor as later 1990-2005 vehicles despite what your local ford dealer's parts catalog system will claim.
1980's crownvics with automatic temperature control use a unique blower resistor, ford part #E4VY-19A706-A and napa part #ECH-BR311. Below are a couple pictures of this resistor assembly.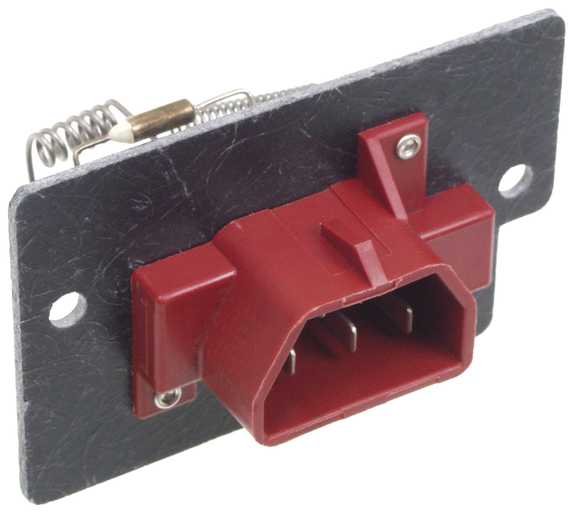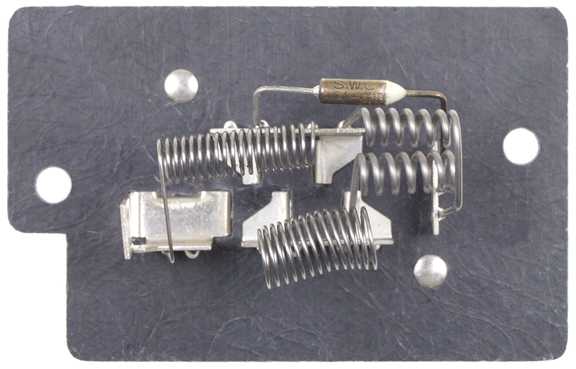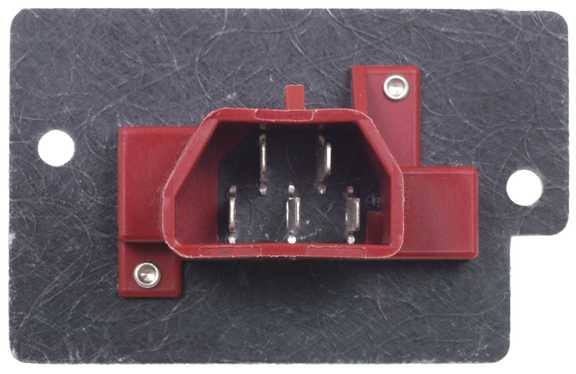 And here is the ECH-EC75 wiring pigtail associated with the ECH-BR311 blower resistor for 1980's crownvics with automatic temperature control.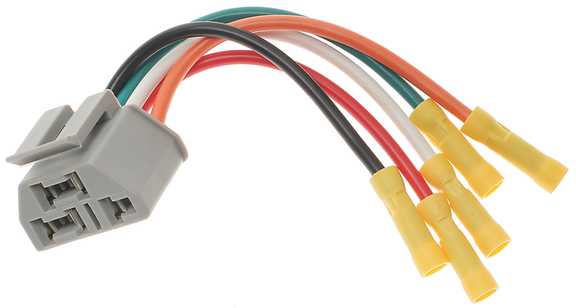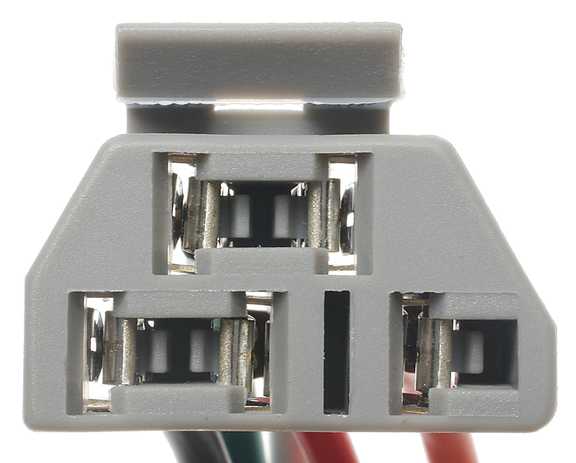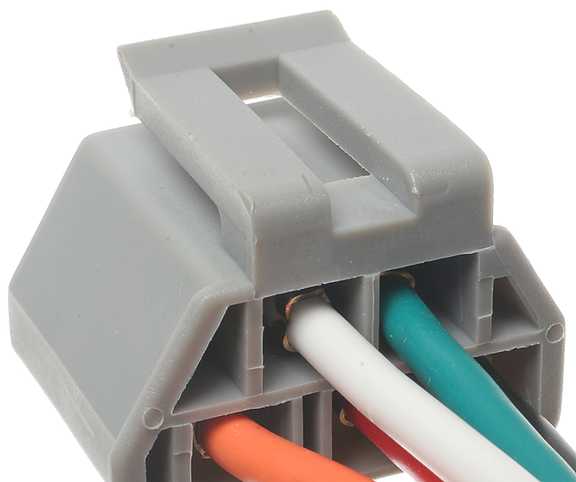 Notes:

The burned resistor connector is from a 1998 crown victoria that came from a southern state where chloride rock salts are not used on the roads during the winter. And yes, "rust free" cars in southern states do indeed get corrosion on this part.
A large portion of crown victoria owners with failed blower resistor parts appear to just complain that their blower motor doesn't work well for years on end, and never bother to actually fix the problem.
A new blower resistor and pigtail will cost about $50 at your local ford dealer.
Attempting to locate a "pre-owned" resistor and pigtail from a wrecked salvage yard crown vic is likely to be unproductive as salvage yards often aren't careful with wiring and break the resistor and it's pigtail into little broken peices when removing a car's engine. Also, many of the crown vics that you'll find will have a resistor pigtail in as bad or worse condition than your's currently is. And there is also a trend among wrecking yards to become "full service" and not let you access the cars in the yard like the old "self-service" yards used to.
Another problem that sometimes afflicts police cruisers is that all air flows out the defroster vents rather than the dashboard vents or floor vents. This is caused by a vacuum leak somewhere. But the focus of this article is on the electrical control aspects of the blower motor rather than the vacuum controlled mode door actuators inside the heater plenum box.
The blower resistor is cooled by air flowing by it. An old wornout blower motor that consumes too much power and moves too little air will cause premature failure of the resistor.
The blower motor electrical connector was revised part way into the 2004 model year. Service part literature lists the transistion date from the old style electrical connector to the new style electrical connector as 04/20/04. Crownvics manufactured before 4/19/04 got the old style blower motor connector. Crownvics manufactured from 04/20/04 got the new style blower motor electrical connector.

Part way into the 2005 model year, the blower resistor, the blower resistor pigtail and the associated hole in the evaporator housing were revised. The new blower resistor setup is not compatible with evaporator housings designed for the old blower resistor setup or vise-versa. Ford service parts literature lists the transistion date from the old style blower resistor and electrical connector to the new style setup as 12/06/05.

Sometimes, the blower speed control switch inside the car and it's associated electrical connector are damaged due to excessive heat. However, it is a lot more common to have a damaged blower resistor/pigtail in the engine bay than a damaged blower motor control switch/pigtail in the passenger cabin.
Much of the Do-It-Yourself (DIY) car repair crowd seem unaware that their car even has a blower resistor in it. This often leads to the shadetree mechanic replacing the blower speed control switch on the dashboard inside their car, only to be puzzled why their blower motor still only spins on the "high speed".
The procedure for replacing a damaged blower motor speed controller in a crown vic with EATC or ATC is similar to the procedure for replacing a damaged blower resistor in a car with manual climate controls. However, the part numbers listed above are not applicable to cars with EATC or ATC climate control systems. Some pictures of the the 1998-2010 eatc blower speed controller are avaliable by clicking here. And some pictures of the unique blower resistor used in the 1990-1991 crownvics with ATC are avaliable by clicking here.
A copy of the ford motorcraft wiring pigtail catalog is avaliable by clicking here. This catalog lists numerous other wiring connectors that are used in your crownvic such as a blower motor connector, a blend door actuator connector, an air conditioner compressor clutch connector, etc.
You need a 1/4" ratchet, some extension bars, a swivel, some flexable electrical tape to wrap around the swivel and possibly a flex shaft to access the bolts which hold the blower resistor to the evaporator housing on your 4.6L crownvic. Most mechanically minded people should be able to figure out some sort of setup that will work for this project. The big stumbling point for most shadetree mechanics is figuring out that the blower resistor is the cause of their problems and then obtaining the needed part numbers to order the new blower resistor and wiring pigtail.
Autozone and most other aftermarket parts retailers do not sell blower resistor wiring pigtails for the crownvic. They will however sell you a blower resistor. But installing a new blower resistor will do you little good if your resistor wiring pigtail is badly damaged.
Your local ford dealership and the your local aftermarket NAPA parts retailer do sell blower resistor repair pigtails, but you might have to manually supply your parts consultant with the part number listed above to actually order one. Just calling up the parts store and saying "i need a blower resistor repair pigtail for a 1997 crown victoria" sometimes results in the parts consultant saying "nope. don't have one." because the blower resistor pigtail is listed in a hidden section of the catalog that they missed.

The blower resistor is a part specific to the crown victoria and grand marquis. But the electrical connector pigtail for the blower resistor is shared with numerous other older ford vehicles. Here is some application info from the aftermarket SMP (Standard Motor Products) catalog about their S-630 wiring pigtail:
Ford Aerostar

1986

1997

Ford Bronco

1986

1996

Ford Bronco II

1984

1990

Ford Crown Victoria

1990

2005

Ford E Series Fullsize Van
E-150 E-250 E-350 E-450 E-550

1986

2004

Ford Excursion

2004

2004

Ford Explorer

1991

1994

Ford F Series Fullsize Pickup
F-150 F-250 F-350 F-450 F-550

1986

2003

Ford LTD

1981

1983

Ford Mustang

1982

1993

Ford Ranger

1983

1994

Ford Taurus

1986

1995

Ford Thunderbird

1982

1997

Ford Windstar

1995

2003

Lincoln Continental

1982

1983

Lincoln Mark VI

1981

1983

Lincoln Navigator

1998

2001

Lincoln Town Car

1982

1997

Mazda Navajo (Ford Explorer Sport Clone)

1991

1994

Mazda B2300 (Ford Ranger Clone)
Mazda B3000 (Ford Ranger Clone)
Mazda B4000 (Ford Ranger Clone)
1994

1994

Mercury Capri

1982

1986

Mercury Cougar

1982

1997

Mercury Grand Marquis

1983

2005

Mercury Marquis

1983

1986

Mercury Mountaineer





Mercury Sable

1986

1995


Notes:

some ford vehicles like the taurus have the blower resistor located inside the car which lowers the chance of finding a "bad" wiring pigtail that's really corroded.
some ford vehicles like the crownvic and taurus could be ordered with two different climate control system options. and eatc vehicles use a different blower resistor connector than vehicles without eatc.
some large ford trucks like the excursion have two blower resistors in the vehicle for the two hvac blower motors (front & rear).
the infomedia microcat and proquest cpd service part inventory software that your local ford dealership uses has very limited information avaliable about service parts for 1980's ford vehicles. support for the pre-1990 ford vehicles has for the most part been eliminated. this is why aftermarket application info is listed above.
in service parts literature, there is mention that some of the F600/F700/F800/F650/F750 heavy ford trucks use a crownvic blower resistor connector too.
If you are looking for hard-to-find electrical connectors for older legacy applications, you might visit the Car-Pak Manufacturing website. Not only does this company manufacture the 91-6881 blower resistor connector for older ford vehicles, but they also manufacture other hard-to-find electrical connector pigtails for older chrysler and general motors vehicles too. Do note that car-pak manufacturing does not sell directly to the public, and you have to buy through an authorized distributor. One car-pak distributor with an e-commerce website is C.A.S.E, avaliable on the internet at: http://www.car-pak.com and http://www.autobodyclips.com

Blower motor replacement notes:

The hole cut into the evaporator box to mount the blower motor hasn't changed since the early 1980's crownvics. However the blower motor electrical connector has been revised a few times over the years.

Currently, ford dealerships only sell blower motors that use the new style electrical connector first introduced in the late 2004 model year starting on 4/20/04. The current part # for the crownvic blower motor is 4W7Z-19805-AA (MM929)
There is a plug in jumper harness avaliable for installing a later model blower motor into an earlier 1992-2004 car, part #4W7Z-14A411-B (WT-56853). You could also cut off your old wiring pigtail and splice on a new one using kit 3U2Z-14S411-YBA (WPT-605) instead.

To confuse matters even further, there is yet another different blower motor electrical connector used on the 1991 & earlier box body crownvics too. The part # for the adapter harness to use a 1992+ blower motor in one of these legacy vehicles was F1AZ-18C629-A but this harness has since been discontinued and is no longer avaliable.
If you need a blower motor electrical connector for your 1992-2004 crownvic that still has it's original blower motor installed, the part # for the wiring pigtail is: 1U2Z-14S411-CA (WPT-104)
There are aftermarket blower motors avaliable for the 1992-2004 crownvics that have the original style electrical connector on them. Installing one of these blower motors into your 92-04 crownvic would be easier than splicing on the later style wiring pigtail, and less expensive than purchasing the adapter to use the later style blower motor in your car.

There are also aftermarket blower motors that don't have an electrical connector at all. Instead, they have two wires hanging out of the motor that you need to splice onto your car's electrical harness. When splicing one of these motors into your car, you need to pay attention to polarity. If you connect the wires backwards, the motor will spin backwards and move a very minimal amount of air.

If your blower motor doesn't spin at all, here are a couple troubleshooting tips:

Much of the Do-It-Yourself (DIY) car repair crowd seem unfamilar with the concept that the blower motor is controlled by a resistor inline with the ground side of the motor. Just because the blower motor electrical connector has +12V present on one pin does not necessarily mean that the blower motor will spin after you install the connector. You also need a ground path on the other terminal of the blower motor connector to get the motor spinning.
If you're wondering whether your blower motor is not spinning at all because of an issue with the resistor, wiring, or the motor itself, a good starting point is to remove the electrical connector from the blower motor and run two high guage wires directly to the vehicles battery to for temporary testing purposes. Be careful with this method, the blower motor draws lots of electrical power and could cause thin wires to get rather hot. You'll also generate some sparks when you touch the wires to the battery terminals and motor contacts.

In the 1992-1997 crownvics, the factory shop manual says to remove the engine coolant reservoir to obtain sufficent space to be able to slide the blower motor out. Unfortunetly, the nuts are usually rust-locked to the mounting studs which hold the reservoir to the fender apron. This means, you can't remove the coolant reservoir without destroying it. However, there is an alternate solution that is not documented in the factory shop manual:
In the aftermarket, it is common to require you to reuse your old blower wheel on your new blower motor. However, you'll often end up destroying your old blower squirrel cage attempting to get it off the blower motor shaft. So you will probably want to order a new blower motor wheel before you start installing your new blower motor.

In the aftermarket, there are also some really noisy blower motors avaliable. If you source from the aftermarket, you might want to power up the new motor before you attempt to remove your old one. If your new motor seems too noisy, visit another parts store and get a different one from a different manufacturer. If your blower motor already has the blower wheel installed on it, be aware that these are high torque motors and the blower motor will want to move around a bunch when you apply power to it.

A bad blower motor will often take out the blower resistor when it fails. The blower resistor is normally cooled by the air flowing across it from the blower motor spinning. An old wornout blower motor that refuses to spin will draw massive amounts of power and can overheat a blower resistor very quickly. You will wear the bearings and brushes in your new blower motor at an accelerated rate if your blower resistor is damaged so that you're forced to run the blower motor on the "high speed" setting whenever you want heated or air conditioned air.

Having a non-functional blower motor is a safety issue. It's very dangerous to drive during the cold winter months when your windshield is covered in ice or snow because you can't heat the glass to melt it off. It's also dangerous to drive during the humid summer months to drive with foggy windows. And in some parts of the united states, you could end up with heatstroke from not having a functional air conditioning system during the hot summer months. None the less, some penny pinching car owners drive around for extended periods of time without functional blower motors.


Question & Answer



Is all the above information really necessary?



This article was composed with the diy shadetree mechanic in mind and contains lots of background info. If you're a professional mechanic, all you will probably need to know are the part numbers for the blower resistor & blower resistor pigtail.



How hard is it to replace the blower motor in a crown victoria?



This is very easy task in the 1998 and later crownvics if you get a motor that already has the blower wheel installed. Just remove an electrical connector, remove four bolts, slide the old blower motor out, and reassemble everything with your new blower motor. Do be warned that replacing the blower motor is a more involved task on the 1992-1997 cars, because you'll need to drop the fender apron down some like mentioned above.



How hard is it to replace the blower motor resistor in a crown victoria?



This is a difficult task in the 1992-2010 crownvics. These cars use the 4.6L engine that has a tall engine valve cover located in front of the blower resistor along with some heater core hoses routed near the resistor too. You will need a 1/4" ratchet, some extension bars, some swivel adapters along with lots of patience for this task.



Should I have my local ford dealership install a new blower resistor & pigtail for me?



If you do not like frustrating hands-on car projects, this would be a really simple solution. Just describe your problems to the dealership service advisor, hand them your car keys, and pick up your car when it's ready a while later. Do be warned that your wallet will become a few hundred dollars lighter if you choose this option though.



Should I acquire a replacement blower motor from the local salvage yard?



This can be a good option for some people. Your local salvage yard probably has a bunch of good working blower motors on hand ready for immediate delivery. Do be warned that some blower motors will have a tobacco odor to them if the previous owner of the wrecked car was a cigarette smoker though.



Should I acquire a replacement blower motor resistor from the local salvage yard?



No. Most of the crownvic blower resistors and blower resistor pigtails at your local salvage yard are likely to be in similar condition to your broken ones. Also, most full service salvage yards don't sell cheap small parts like blower resistors separately.